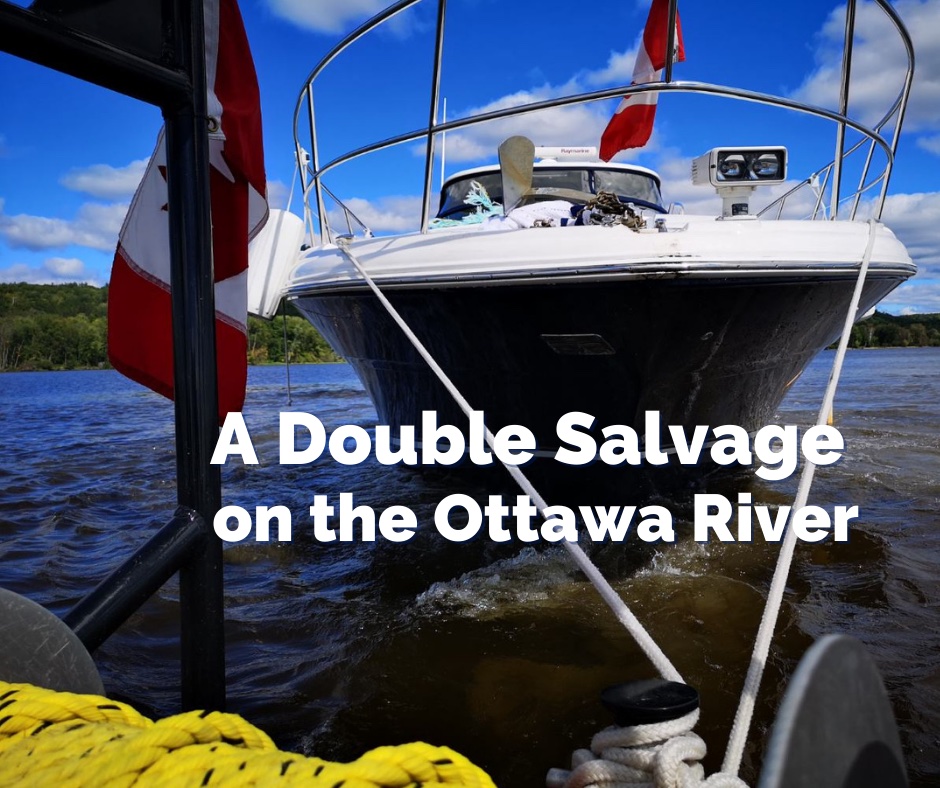 With a Zodiac and a trailer, C-Tow Quinte's Kenn Morrison can easily get to mariners in need of help, even if they aren't on Lake Ontario.
Last summer, Captain Kenn and Captain Matt Bradley (C-Tow 1000 Islands) hit the road with a salvage job on the Ottawa River in their sights.
"Kenn said, 'hey, do you want to go to Quebec and get a boat?' And I always just say 'yeah, let's do it'," laughed Captain Matt. The duo frequently partners for salvages around their home territories, combining talents and equipment.
Once on the river, Captain Matt recalled, "We saw a boat that looked like it was grounded but it didn't quite match the description, so we carried on towards the coordinates that we had. We found a boat there and the occupants on the boat were trying to get it loose."
"Any grounding that takes more than half an hour to unground is considered a salvage," he explained.
Under C-Tow's definition, marine salvage is the act of reflecting, patching, stabilizing, dislodging or engaging any other means to save, secure, resurrect and or prevent further harm to any sea going vessel, that is otherwise inoperable.
It's unsafe, ill-advised, and illegal to leave these boats in the water.
"The boat has to get out of there," said Captain Matt. "You can't just leave it. The captain is responsible for the vessel."
Often, insurance companies will reimburse the cost of salvage.
If the boat is not recovered by the owners, Captain Matt added, "What will happen at a certain point is the government will order the salvage and the owner will lose the boat completely. The boat will usually be completely scrapped."
As for the boat in Quebec, "They were stuck really good," he reported. "They were at anchor and a big windy storm came in that night. They dragged anchor and they got blown up into really shallow water. Because of the big waves, what would happen is the waves would lift the boat up, move it in more shallow, then set it down on the bottom. Another big wave would come in and just keep moving it while it's dragging anchor."
"The next day when everything's calm and there are no more waves, you can't get out of the situation. You'd need the waves to come back and have somebody pulling on you. So we had to basically just pull them out of that with a lot of maneuvering and brute force — pulling on the front, pulling on the back, pulling on the front and back until we got it into shallow enough water that we could pull it right off the bow straight forward, keep our momentum and get out of there."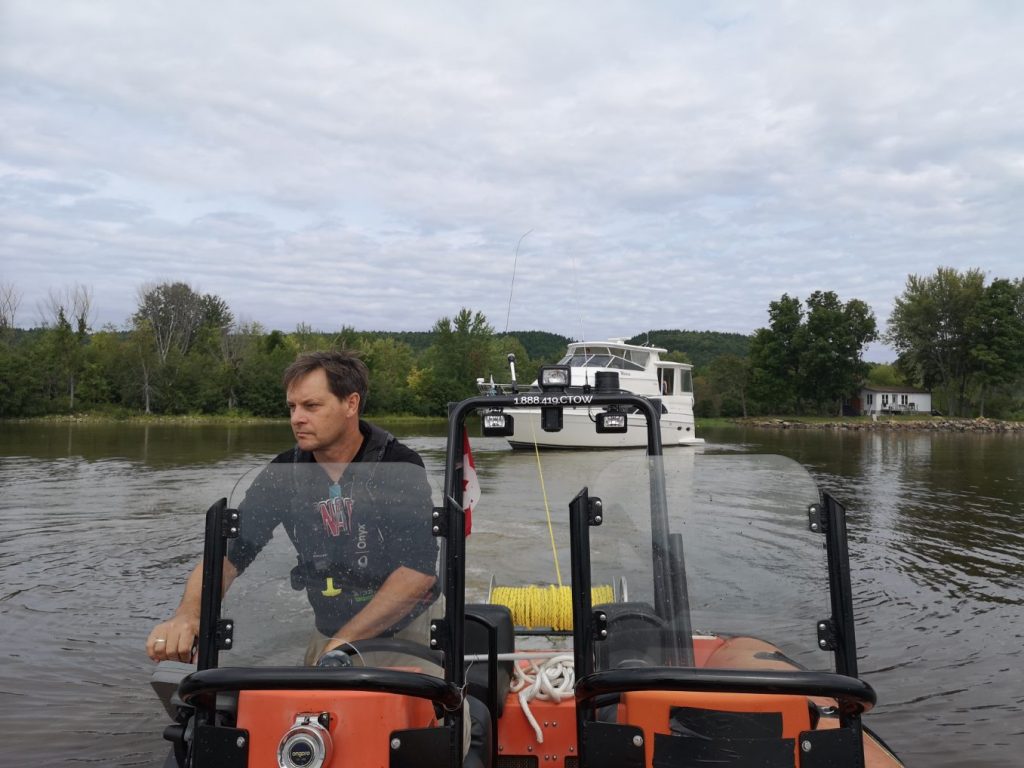 With the vessel freed, Captains Kenn and Matt had the occupants check their boat over.
"Everything was fine, fully operational, and they were good to get back on their way to continue their trip. We left, came back to Ontario, and the very next day Kenn called me and said 'hey, want to go back?'"
The people in the first boat the captains passed saw that C-Tow had rescued a boat similar to theirs and wanted help, too.
Prior to the C-Tow call, a car ferry had "pulled and pulled and pulled for hours and couldn't get it unstuck," reported Captain Matt.
"It was really, really stuck. We had a lot of shallow water to pull it out from. The owner of the boat had a lot of family there and a lot of friends and when we all got back to the dock, they were very eager to celebrate the success of getting the boat unstuck."
As Captain Matt explains, "Even some big, unlikely situations can be handled by experts. If you know what you're doing you don't necessarily need a huge tugboat to get these boats unstuck. We can do it with our work boats."
"They were both boats around the 40-foot length range," he recalled. "They were cruisers with about three different heights of deck to them. They were stuck in about two feet of water and these are vessels with easily a three-foot draft. And we got them free with a 26-foot diesel powered RHIB (rigid hulled inflatable boat)."
C-Tow's base hourly rate for salvage is $350, regardless of the value or length of the vessel. If you find your boat stuck and need an assist, our captains are ready to help, even — or especially! — where other attempts have failed.