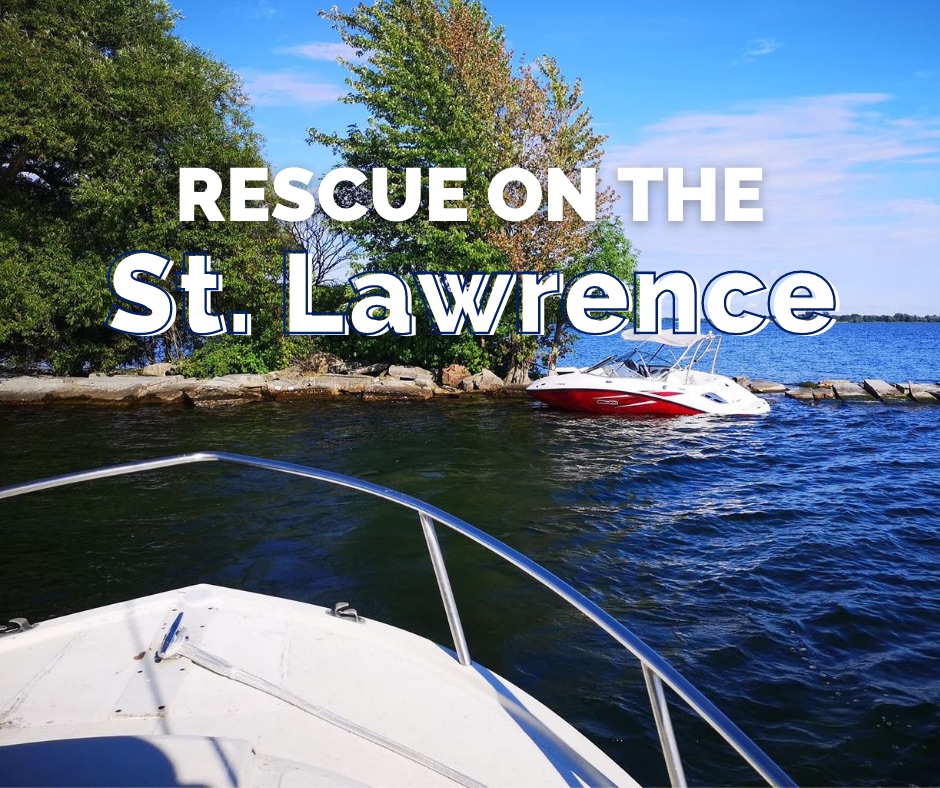 Few would argue the Saint Lawrence River is not a boater's paradise, offering everything a mariner can dream of and more. But, occasionally the river claims boats, and even lives. Spoiler alert: everybody lives in this story.
A hot, sunny day on the St. Lawrence River — great conditions for a fun day for visitors on the water, until their vessel struck a rocky shoal on the western tip of Howe Island, quickly taking on water. With four adults, a six-week old baby, and a dog aboard the now-disabled vessel, the occupants recognized this was a serious marine emergency.
With the Coast Guard assessing the passengers, one of whom had disembarked and pulled the boat up to a rocky shoal and secure to a tree, Captain Matt stood by to offer assistance. The Coast Guard decided to take the baby and a parent to meet EMS at the Howe Island ferry terminal, leaving three adults and the dog in a boat that was no longer seaworthy.
The remaining passengers needed to be out of the heat and back on dry land. Shaken from their ordeal, they came aboard C-Tow 1000 Islands for a complimentary ride back to the marina. With the boat secured outside Howe Island and its passengers on land, Captain Matt's next step was to liaise with the Prescott Coast Guard to ensure they knew the last passengers were accounted for and that the wrecked boat would be salvaged by C-Tow.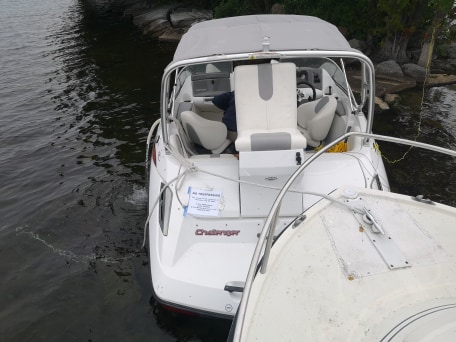 All of our C-Tow captains work closely with the Coast Guard and other local authorities on the water. It has been a core part of what we do since our founding. In fact, C-Tow came about as a response to a change in Coast Guard policy, when they determined they would only assist vessels in emergency, life-threatening situations and would not be towing otherwise, back in 1984. Coast Guard and C-Tow boats together at a scene on the water is a common sight on Canadian waterways.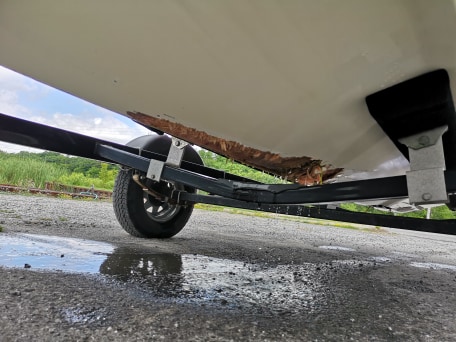 This story of a vacation day gone wrong ends as well as it can, with all of the passengers back on dry land safe and healthy and the boat on its trailer awaiting an insurance verdict and potential repair.
Captain Matt linked up with Captain Kenn Morrison of C-Tow Quinte to salvage the boat, pumping out the accumulated water and refloating the vessel to get it across the river to the marina, where they pulled it out using the trailer the vessel's owner had dropped off to Captain Matt's yard.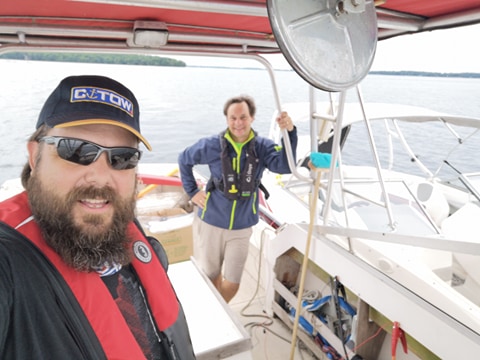 The passenger who pulled the boat to shore, the JRCC and Prescott Coast Guard, and C-Tow — swift response from all limited the potential danger. It's important to be prepared for situations like this and other unexpected problems on the water, ensuring you have navigational aids, a VHF radio or cellphone, and PFDs for everyone on board.

While we always hope we can get to a vessel before it is taking on water or badly damaged, we are a phone call away in any situation, at 1-888-419-CTOW (2869). The Coast Guard Marine Communications and Traffic Services (MCTS) is available on VHF channel 16, or *16 on a cellphone where available. 
Stay safe, watch for hazards, and happy boating!