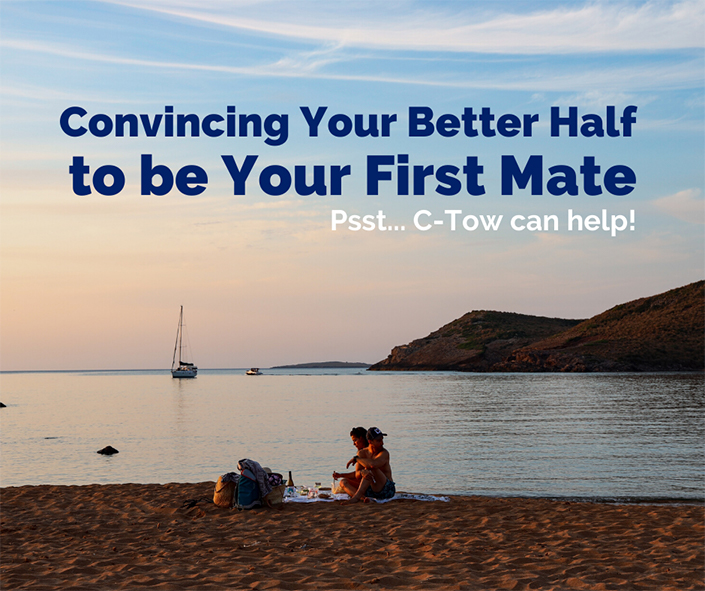 We were delighted to find the Vancouver Boat Show's Spousal Conversion Kit, a series of resources designed to convince even the most reluctant first mate into joining the marine lifestyle with glee. We believe boating can be an awesome family activity. Whether you're using your boat to explore local waterways on evenings and weekends, heading out for a fishing expedition with the kids, or planning an on-deck picnic with a view like no other, a boat can quickly become a beloved part of your happy family memories.
Of course, getting a boat can be a big decision no matter how much fun it brings, and it's understandable if you're met with a bit of reluctance. Some of the biggest concerns about buying a boat come down to worries about the cost, and worries about safety. C-Tow can help with that part of the spousal conversion plan!
If your partner is anxiously envisioning piles of bills or skyrocketing insurance premiums from an on-water incident requiring marine assistance, or playing out an Oscars-worthy dramatic water rescue scene in their mind, well, that's what C-Tow is for.
A quick look at our pricing page shows just how affordable our reliable, Canadian marine assistance is, especially if you've proactively purchased a membership. We're here to help you with tows, fuel, and other issues that would otherwise sink your day, without sinking your wallet. For the budget-conscious spouse, there's another checkmark in the Buy a Boat column.
As for safety, your C-Tow membership comes with peace of mind. Ask any nervous spouse — knowing that there's reliable, responsive, experienced professional help on-call at any time, on any day, is the kind of security that turns a reluctant landlubber into a happy seafarer.
One of the tips in the Spousal Conversion Kit is to bring your partner to a boat show. Sweeten the deal by taking your spouse around to the C-Tow booth while you're there, so we can explain all of the safety and financial benefits of our marine assistance to go along with that shiny new boat.