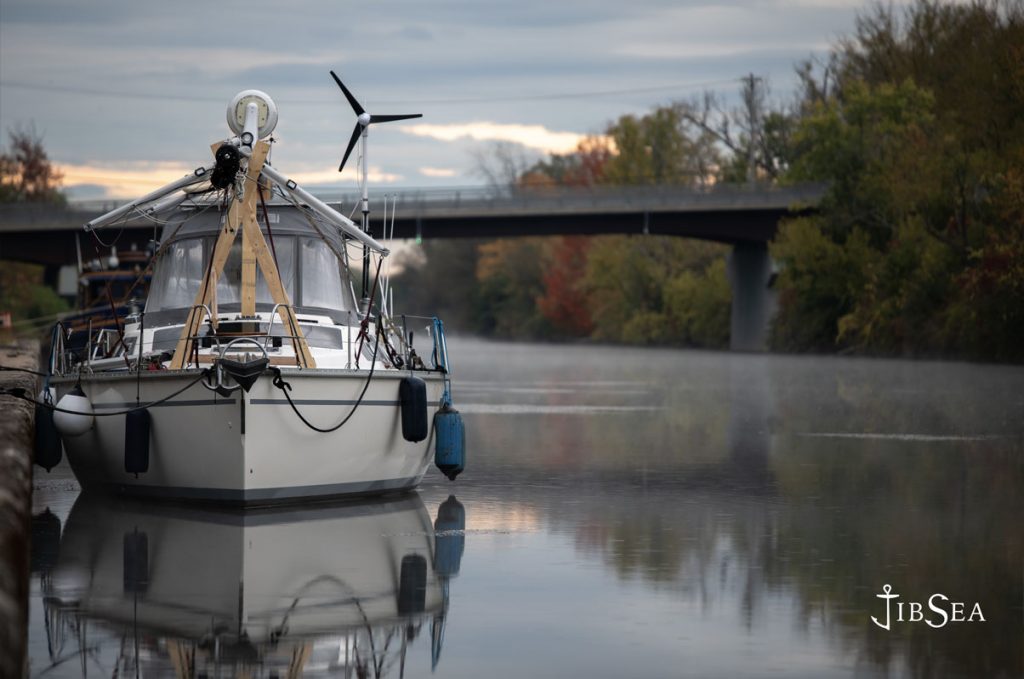 Everyone always talks about cutting the dock lines and setting off into the sunset, never looking back.
It's sure easy to talk about until the exact moment it actually happens. The moment that separates you from talking about your dream and bringing it to fruition! I can tell you, it's certainly overwhelming and full of every possible emotion.
We had planned for the day to take off prior to the global pandemic, taking into consideration the time of year and when the locks close for the season in the canal system. With border closures in effect and border closures being extended over and over, we were unsure if we were going to get to leave before the locks closed in mid October for the season.
Because we had set a date to leave, we decided we were going to go for it. All or nothing. After figuring out all the logistics, we were ready to untie from the dock knowing that this could very well only be a weekend trip if we were denied at the US border. Alternatively, we were also prepared for our life to turn 180 and begin living our big dream.
We did a relatively quick farewell , denaming/renaming ceremony on Jibsea and off into the sunset we went, overwhelmed with all the emotions.
Emotions aside it's time to start our unknown adventure. We had no idea if we would be turning right around but we had our mast cradle built and set up on the deck in the event we got an approval to enter the US where we would need to unstep our mast in order to enter the canal system. It was our first 130 nautical mile overnight sail that would lead us across the Great Lake of Ontario into the canal system in upper New York and into the sea!
We hit landfall in a place called Oswego, NY. As the highest bridge was only 25' or so, we had to unstep our mast and secure it onto the top of our boat (if that interests you, then head over to our YouTube channel Sailing Jibsea and watch our first few episodes.)
With the mast down and all snug we set off for our first lock, one of 32 (a water elevator) which we were not prepared for. Our fenders were too high and ropes were not in the right places. I can tell you it was a frantic struggle to adjust them just right without leaving any gelcoat behind. After going through our first two locks, quickly learned some key questions to ask the lock master to make our journey a little easier. We would call the lock master on the VHF radio a good 10-15 minutes ahead of our arrival to learn and prepare which side we'd be tying up to (port or starboard), whether that particular lock uses ropes or poles to tie to and whether the lock brings us up or down. Locking up creates a lot of underwater turbulence in which we'd be fighting ourselves off the wall and going down in a lock is a breeze. When being lowered, we pretty much just need to watch that our fenders don't lift or rise. Many who travel the locks frequently will tie long boards that connect all fenders to prevent their movement while traversing the lock. The board helps to protect the fenders and helps them slide easier as your move up and down the lock but we managed just fine with the four fenders we had. They just needed a good pressure washing afterwards.
If you ever want to really see a country, travelling via boat is the only way. I can't tell you how amazing it is traveling though the canal system and stopping in towns we'd otherwise likely never visit or explore if travelling through by car. With lire passing us by at 4-7 knots per hour, it's like a real life motion picture.
On the safety side of things, I can't stress the importance of ensuring that your anchor is accessible or even having a quick drop anchor off the stern . The reason being, if you encounter any engine issues or your fuel lines clog you want to ensure you can drop your anchor quickly in a narrow canal. (If you want a good laugh, check out our early YouTube episodes for that.)
When you're in a 40-60' wide canal and your motor quits, the canal suddenly closes in and feels more like 20' wide because you don't have a lot of time to react to drop the anchor.
There are hundreds of miles of canals if you live near a canal system like a lot of people do on the Great Lakes. If you have ever thought about the trip, don't hesitate any longer, it's absolutely wonderful. It has definitely been a highlight for us on Jibsea!
Thanks again for following along and hope to see you over on our YouTube channel for more of our adventures.
Take care for now
Travis
Instagram: @sailingjibsea