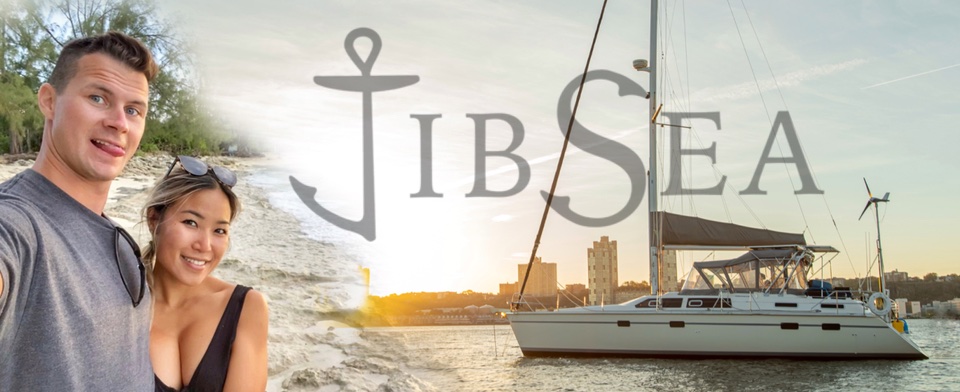 Hi, we're Steph and Travis, we knew nothing about sailing, bought a sailboat and left land life in Canada behind!
Picking up from last month's read, I'll be sharing how we found Jibsea, our full time cruising sailboat. If you have never been on a sailboat or cruised around in one, it's difficult to comprehend what it's like or even what to expect on the water and being in a constant state of motion.
So how does one get started on finding their future boat with no idea where to start? Here's what went through my head to decide upon what boat we should be looking for.
First, I'd suggest making make note of what you and your partner's comfort levels are on land and what you want your experience to be like on the water. What I mean by this is, do you want it feel like you're camping on the water or living with some of the cozy amenities you're used to on land life? Do you want an open beamy cabin with an ample number of port lights and hatches or a cozy hobbit hole sort of feel? Do you want a full size bed where you can walk around  or would you feel comfortable sleeping every night in a smaller bed in a more enclosed space? Do you want a large cockpit for entertaining or a smaller but safer feeling one underway? Do you want a TV, AC, or microwave, maybe even hot water?
The list can get as extensive as you want it to be with your own personal wants, must haves and could live withouts.
Another good start would be to think how you live on land and how comfortable you are with certain things. Then go through that list with a fine toothed comb as you look at various sailboat layouts. (Spoiler alert! Unfortunately you will most likely have to compromise with certain wants, unless you have no budget… sure would be nice!)
I would start my weekend mornings off with a coffee, a dockside view of a marina, my cell phone, and endless wifi. I would look at the names of boats and sizes and start my Google searches off those components and then get a better idea of what their interiors with information found online. I didn't limit my searches to only boats for sale locally, but started looking all over the globe to find what I thought would be ideal for us.
I noticed that the Caribbean and Mediterranean had the most number of used charter boats for sale and for much cheaper than everywhere else I had seen. However, my preference was to find a personally loved and cared for boat, rather than the village bicycle to start with. Reason being, with a charter boat, the vessel would have to undergo a lot more work to get her ready. (Another spoiler alert, all boats need work… all the time!) 
With my personal growth and knowledge of sailboats now, I wouldn't hesitate looking at a used charter boat as I feel that I have a better eye for what the boat would require in terms of equipment, upgrades, labour and the costs associated with the projects needed to liveaboard, cruise full time and make it our home.
Going back to my process, my morning coffee turned into hours and then full days of reading online and looking at boats all over this big blue marble we call Earth. I soon came to the realize what my idea of the perfect cruising boat within our budget was and made a checklist.
The list included (but was not limited to) the following: a centre cockpit (CC) for a safer feel underway and full maneuverability/easy accessibility around the entire outside when docking, for example. Not only would one get the safety of a CC but they also usually provide a generous amount of space aft for a full aft cabin that allowing for a queen size bed that has access on three sides – a full walk around.  I also wanted a full shower as it doesn't just doesn't make sense to me to soak your entire bathroom with the common 'using your sink faucet as your shower head' sort of setup. I thought the saloon should have seating on both sides of the hull so that we could sit and sleep on either side when heeled one way or the other. 
I also considered safety while cooking underway so I thought that a U-shaped galley providing more of an enclosed feeling made the most sense. With respect to livability, Steph and I thought we'd be happy with these features.
I was looking online everywhere for boats. After looking at hundreds and even thousands of boats online, I realized that no matter how many different boats and layouts I went through, we'd still truly have no idea what the boat would look or feel like in person. I thought it would be a good idea to attend the upcoming Annapolis Boat Show and get our butts on as many boats as possible so we could actually see and feel what a 40+ foot sailboat is like in person.
So off we went, despite knowing that it'd be a challenge with Steph having a newly broken ankle with half a hardware store holding it together. For 12 hours, we roamed all throughout the show, stepped/crutched onto almost every sailboat there –  I must say Steph was a trooper that day! Sore armpits and some numb hands later, we accomplished what we had set out to do. We had a pretty good feel for various sized boats and their layouts. 
While at the boat show, someone had suggested we look at boats for sale in our area to see what a used boat in our price range may look like. As nice as the boat show was, it was a bit dreamy.
I was so excited to take a tour of the first boat in our price range that I almost put in an offer even though it didn't feel completely right. I was just eager to make the big first step in our adventure. However, putting my emotions aside was important so that I could think with a clear head, sensibly. After all, this was a pretty big deal for us!
Months passed and I was having a hard time finding something that checked all our boxes. As time went on, the list of what we should have on our ideal boat grew quite a bit. We now wanted something that was close to, if not already set up for living off the grid. Renewable energy (solar and wind), big battery banks, good tankage, radar, water maker etc. while still being within our price range, oh boy! How the heck are we going to find this boat?!
One day, I was walking around the marina located five minutes down the street from where we were living and I saw a listing for a Hunter 42 Passage, a boat I had never Googled or came across yet (I wasn't looking for a production boat at the time.) I could only see the exterior of the boat in the listing so I still had no idea what its interior was like. I thought "Ah well, not what we're looking for."
A couple of months go by and I decided that I might as well go check out that boat since it was so close by. I arranged for an appointment to see the boat that very day. My first impression was that it appeared a bit neglected but once I stepped inside, I got a different feeling.  Somehow, it just felt right. At that moment, I knew it was the boat for us.
I had no idea before setting up the viewing that it was actually going to check 95% of our boxes. It was a centre cockpit, full aft cabin, had a U-shaped galley, a full shower/bath tub, seating on both the port and starboard sides of the saloon and had a ton of new equipment for some serious cruising (of which some weren't even set up yet.) 
Sadly, we learned that the boat was left sitting for the past year and then listed for sale due to an unfortunate turn of events and health issues for the previous owner. To find a boat that was being outfitted by the previous owner to live off the grid so close by, checking pretty much all our boxes and within our price range seemed surreal and we instantly knew it was the boat for us!
The only components it was missing was a skegged rudder and an inner-stay but like I said, there's usually a compromise on one thing or another. Later that day, I researched the entire web on Hunters and 42Ps and I came across a lot of great articles on Hunters. I was having a hard time finding anything for cause to be put off by them. We were now confident in making an offer!
Travis
Youtube: Sailing Jibsea
Instagram: @sailingjibsea
Facebook: Sailing Jibsea