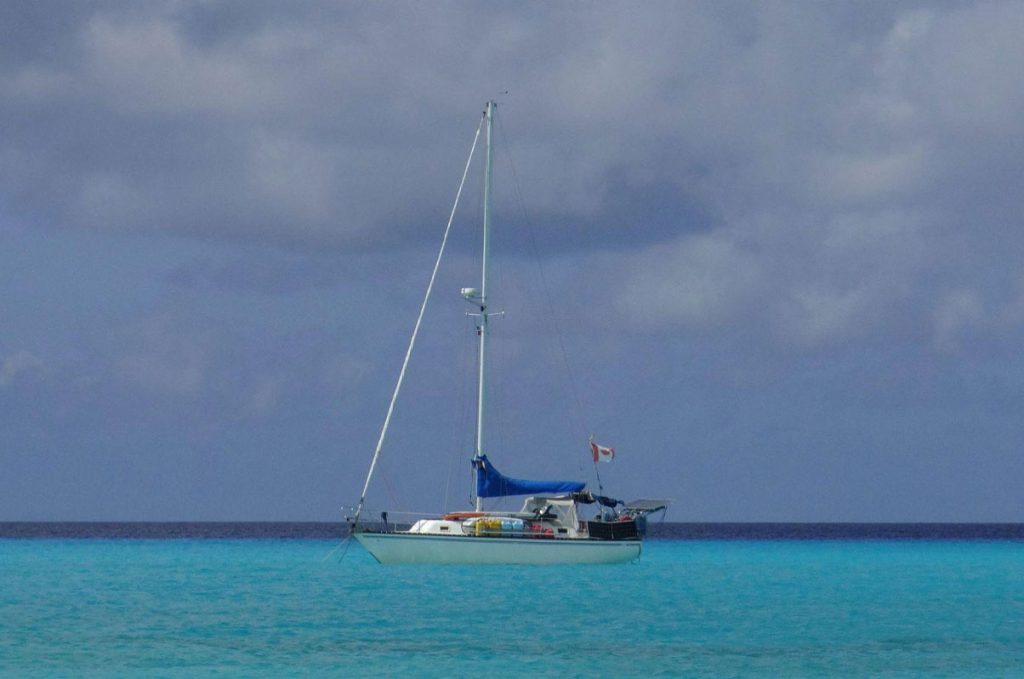 Imagine setting sail to the edge of the earth without charts, GPS or any of what most sailors consider essentials. Setting off for an unknown number of days or weeks. This is what Christopher Columbus did in 1492. San Salvador Island in the Bahamas is where it is believed he first made landfall after 33 days at sea on October 12th in the New World. Coral reefs surround this incredible island. So it must have been an interesting sail to say the least to find shelter using only a compass and land of sight to find your way between coral heads.
When we first decided to sail around the Bahamas San Salvador caught our attention. It was said to have world-class diving with unbelievable visibility. However this island is off-course for most sailors. Further South and far East, nowhere near any other Bahamian Island.. It lies surrounded by the Atlantic and fairly exposed to the elements. So most cruisers skip it and so did we for a few reasons the first two seasons.
This year with more time, no restrictions and wanting to venture more off the beaten path we finally reached San Salvador Island With an unplanned stop at Conception Island because our 6-months old baby was seasick. San Salvador did not disappoint as this island instantly stole our heart. With only one other boat in sight this was going to be an unbelievable stay.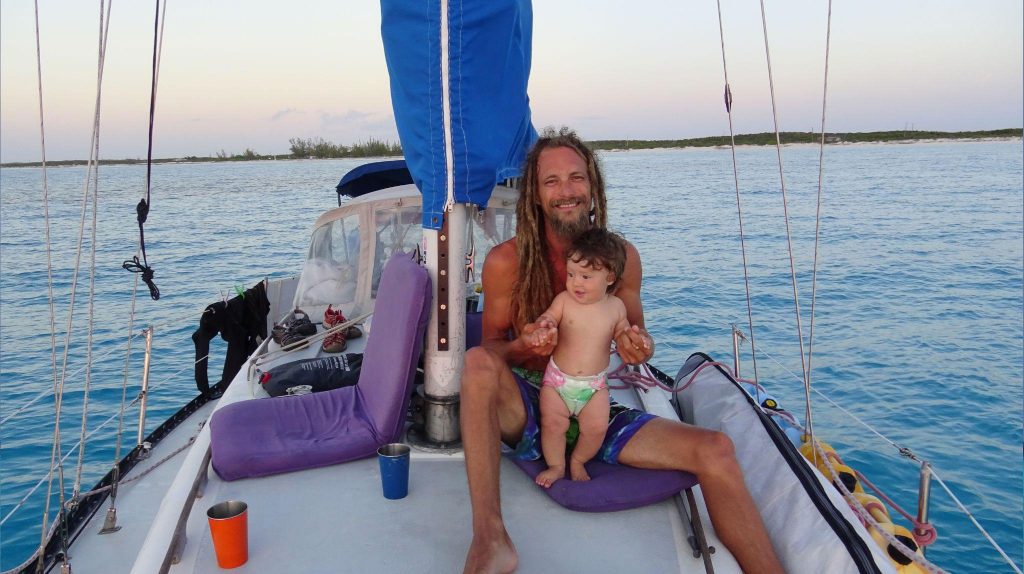 San Salvador isn't very big, roughly 5 miles wide and 12 miles long but what it has to offer is priceless. We anchored in crystal-clear water on the west side. An unobstructed view of the sunset with sundowners is always a good start. Plus waking up the next day to a calm glass-looking sea makes you want to jump right in. The water in the Bahamas is extremely clear in general. But here, seeing nearly 150 feet down is unbelievable. There are over 35 dive buoys where you can dive or snorkel. Not having any dive equipment we chose the shallower locations. We still did free dive the drop-off. A very visible line from turquoise to dark blue shows where it goes from 40 feet, to 140 feet to thousands of feet deep. Peaking into the abyss was extremely humbling. The Bahamas are the tip of a 15 000 feet underwater mountain.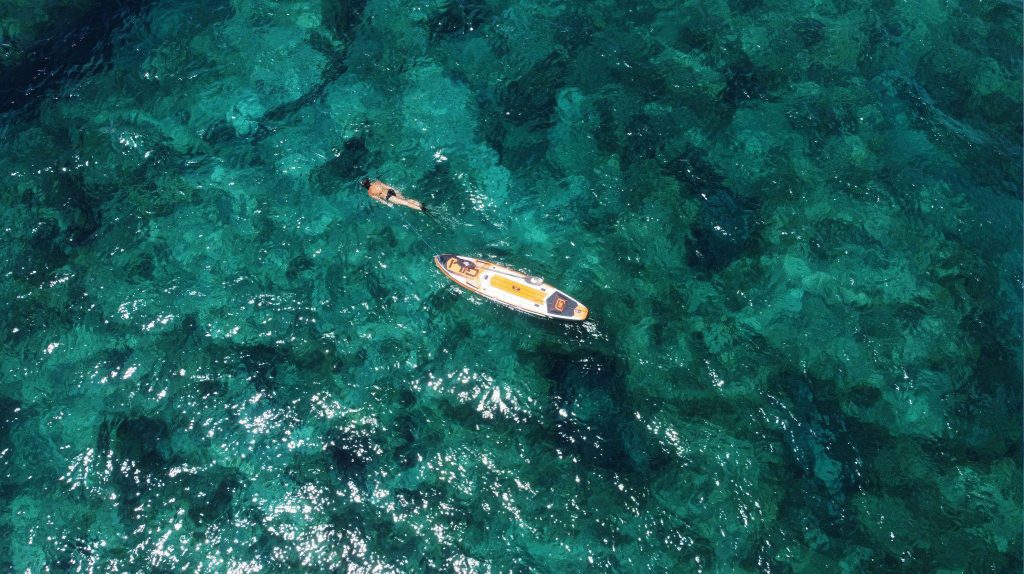 Under normal circumstances it would be rough to anchor further from shore. But the calm sea state made it possible for us to anchor our small sailboat in various locations close to the reefs. It makes it much more comfortable to take turns staying behind with our daughter Coral and to dive.
We stumbled into very different reefs in every area. One spot had numerous caverns and crevasses with a couple of sharks and many fish. Another had coral columns with various colours. Unfortunately many of the main coral structure has died off likely due to past bleaching. But there's new coral growth on top the old structure. Only the day nearing its end and us being exhausted stopped us from free diving any further.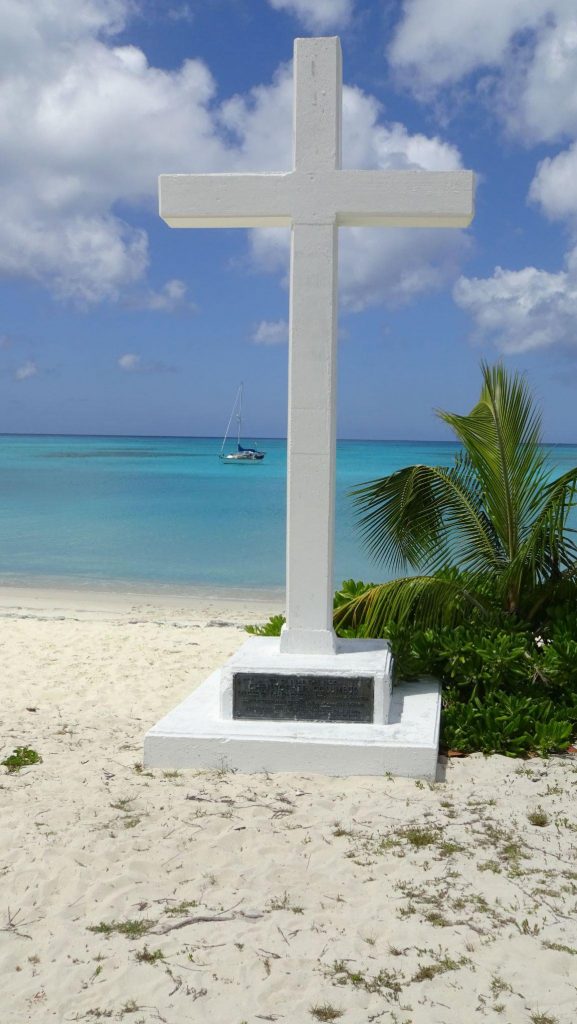 Land adventures are equally rewarding. With such rich history San Salvador is home to many monuments. One of which on Long Bay Beach marks where Columbus supposedly made landfall in 1492. Closeby is another commemorative monument for the replica of his ship the Japanese Nao Santa Maria symbolising Columbus' original intention to sail to Japan. The Olympic Flame also came through on its way from Mexico in 1968.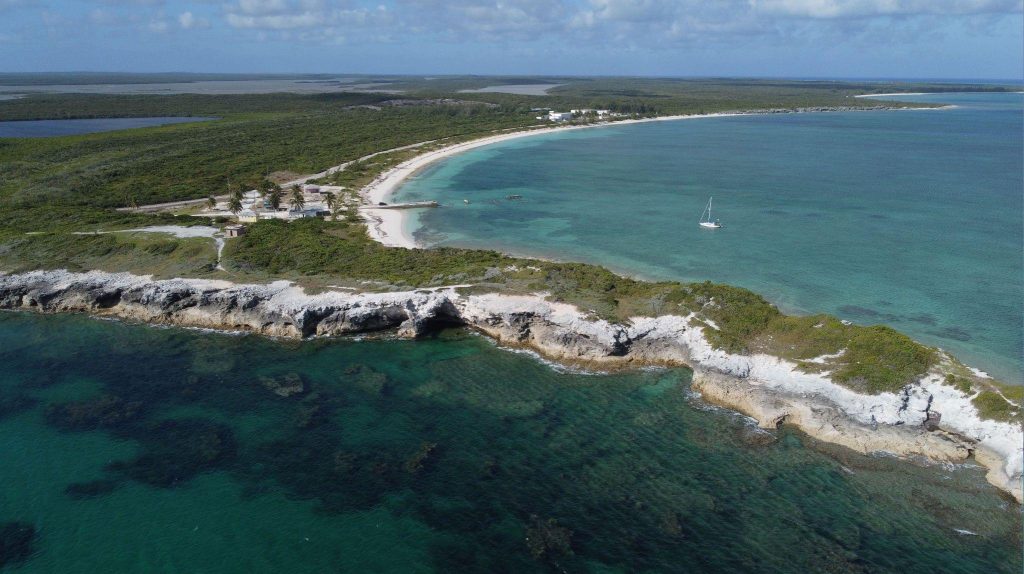 Even some hiking trails lead to wonderful adventures and breathtaking views. Careful navigation through Graham's Harbour on the North End of San Salvador made us discover this wonderful trail leading to the tip of white cliffs. Up and down hills, lush vegetation, priceless views and with a wreck on one side it has everything one wants in a trail. Even sea birds like the brown boobie and a few white-tail terns come to say hello.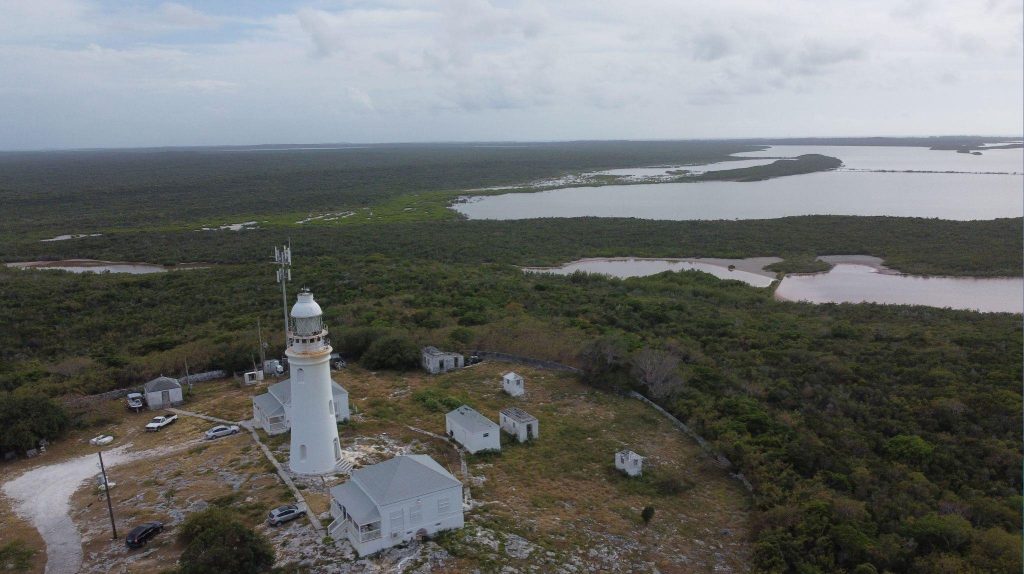 Sailing is all about careful planning and adapting to the wind. Our time in the North anchorage was limited but we had just enough time to walk over to Dixon Hill where a white lighthouse has been carefully steering sailors away from its reefs since 1887. Most Bahamian islands and cays are flat with little to no elevation. San Salvador is the exception, viewpoints seem to be frequent. Here we could see the whole island including its inland salt lakes and settlements. Climbing the steep stairs to the top of the 92 feet tall lighthouse was so rewarding and I could have stayed here forever just looking at it all and the different shades of blue.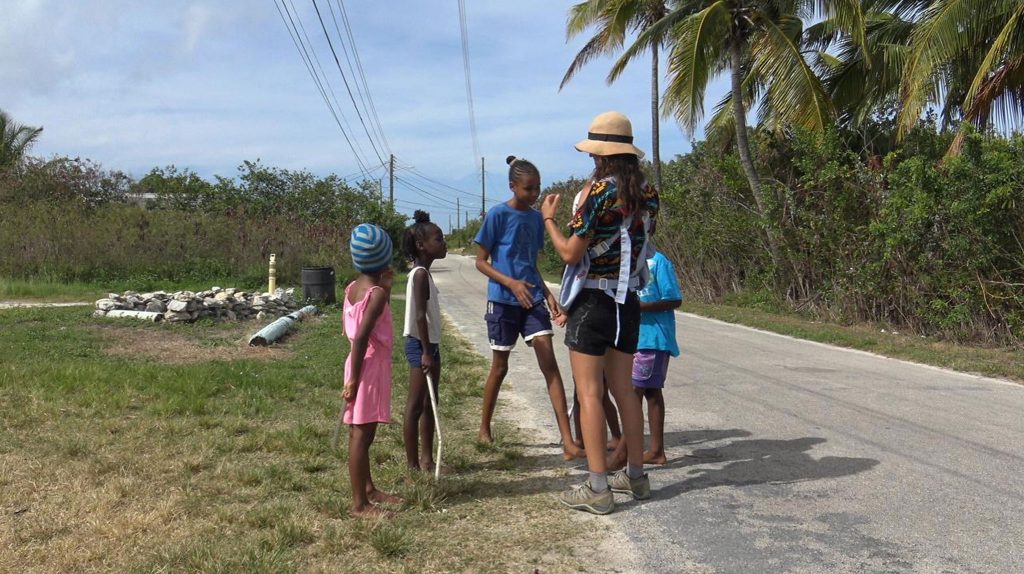 Locals from San Salvador are genuinely friendly and welcoming. Kids would swarm around us and want to hold our little girl and say hi. Everyone wanted to make sure we had everything we needed, give us directions and even offer us a ride and show us around. You don't get this kind of experience in busier and more touristic areas.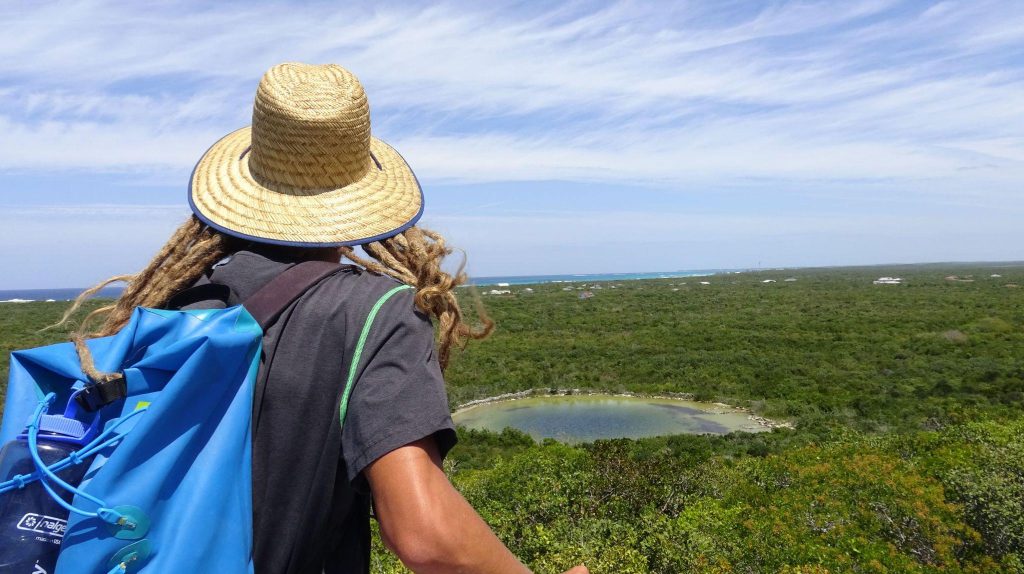 Depending where the wind blows from we ended up hopping around the island to various anchorages. We even anchored in French Bay in the South and found another pink beach. Nearby there were the ruins of a late 18th century loyalist's plantation from the Watling's Castle and the lookout to a blue hole. Both had stunning views of San Salvador Island. We could spend much of our cruising season here. This island is unbelievable with so many gems and with everything a cruiser would need. Water, food, diesel, gas, propane and countless activities to do. Just don't come here for the party scene. We even did lots of paddle boarding.
San Salvador you stole my heart!
Anne Alexandra Fortin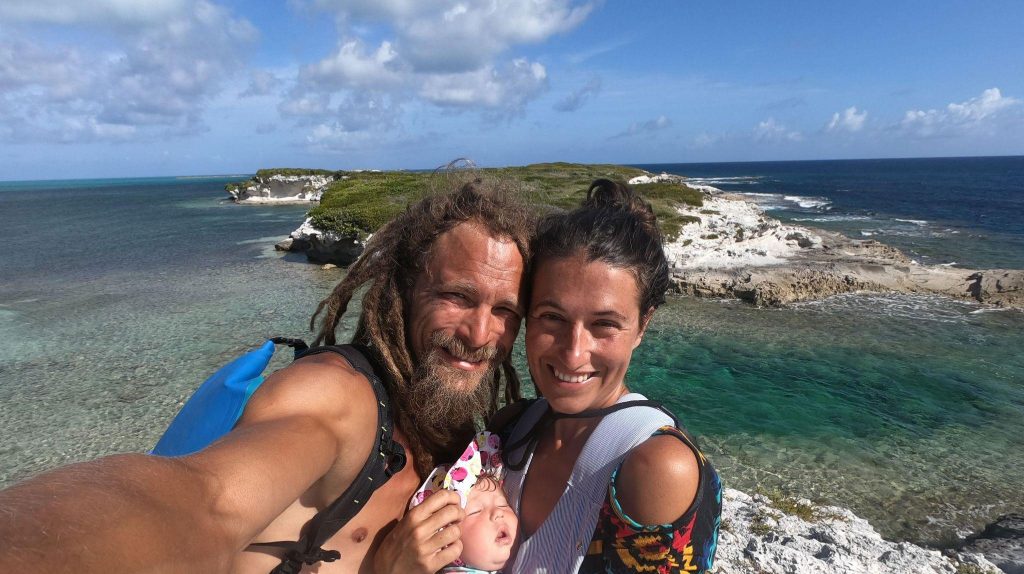 Cory and Alex share their adventure with weekly videos on their YouTube channel "Wildly Intrepid Sailing" and share stories on their website www.wildlyintrepid.com . Their dream is to travel the world and to live without any regrets.