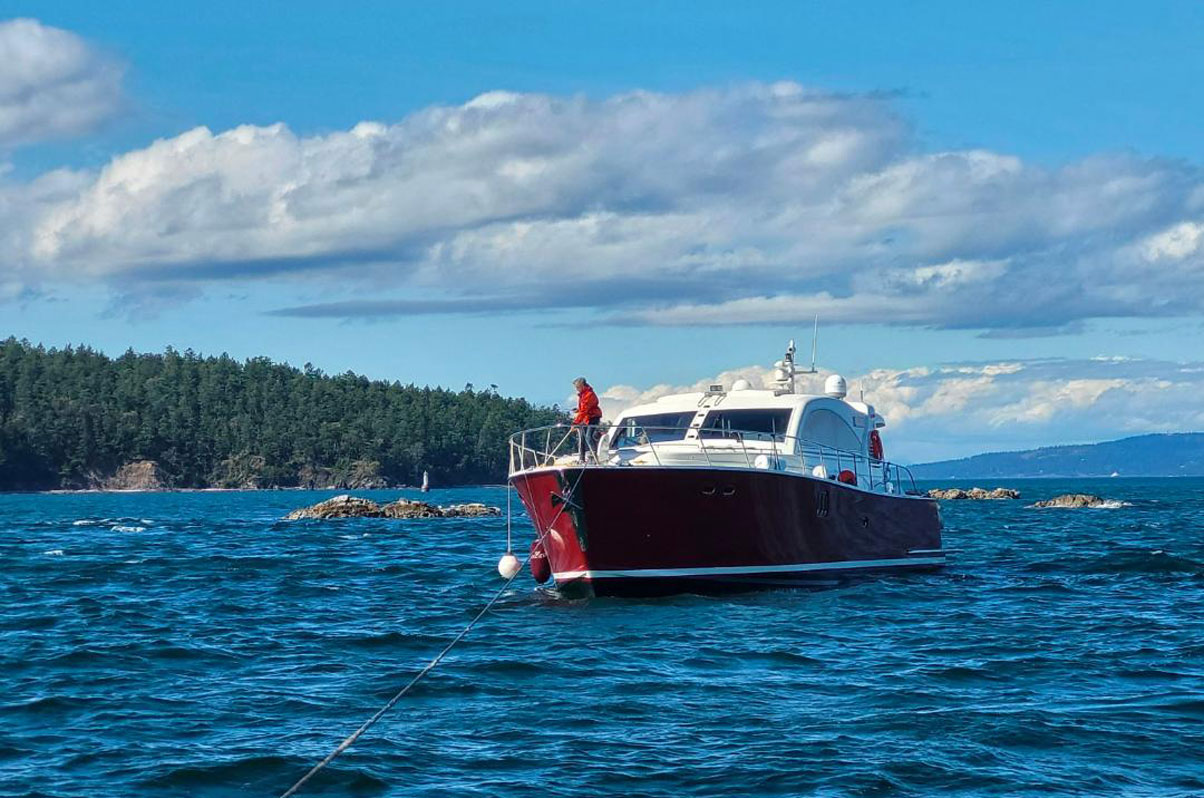 C-Tow Captain's Call: A Day Nearly on the Rocks
I have been boating the BC Coast all of my life. Some even say I was born with saltwater in my blood. I started as a deckhand at the age of 11 on my father's trawler, and then purchased my own commercial fishing vessel in my early 20s, which I owned and operated for 25 years.
These days, I manage and operate two commercial boats out of Sydney, BC, a 42-foot vessel with a spritely V12 diesel engine that cranks out 525 horses, which I charter for crabbing and fishing. The second is a 1996 24' Four Winns with a 350 hp Volvo Penta DP that I use for my whale-watching business. I also frequently deploy them for C-Tow, assisting and rescuing all kinds of boaters all through the Southern Gulf Islands. 
Rescue calls are different from one boat to the next and they are never the same. By having the option of two vessels and a lot of knowledge of the region, C-Tow can assist a wide range of boats and manage a variety of circumstances.
So, when I received an urgent rescue call last summer about a luxury yacht with two broken-down engines just between Sydney Harbour and Sydney Island, I made an immediate departure. For this call, I took my 42-foot commercial fishing vessel, which has the power to tow such a large cruiser safely and securely into port.
I was told by C-Tow dispatch that the owner suddenly lost all power to its engines due to an electrical issue. Any C-Tow rescue call is of the utmost importance but on this day, time was especially of the essence.
The route between Sydney Harbour and Sydney Island consists of some shallow rocky conditions, an unforgiving shoreline, not to mention a two- to three-knot current and prevailing winds, which funnel relentlessly through the corridor. There couldn't have been a worse place for a boat to break down.
Even though the owner cast two anchors to secure his vessel, they began dragging due to the weight of his boat. When I got to the scene, two small power boats had since arrived and were trying to pull the yacht away from the rocks. Nonetheless, it was just too heavy and was just a matter of time before something really bad was about to happen.
Cruising up alongside one of the powerboats, I secured my line to the main tow line he was using. Once it was correctly tied off at the bow and lifted their anchors, I towed them away from the rocks with ease.
Following a short tow into the mouth of Sydney Harbour, I applied another effective technique used by all of the C-Tow captains. I rafted my boat alongside his, secured the necessary lines and at the push of the throttle, my 525 hp diesel powered up, which served as the yacht's main engine, and brought it swiftly into the harbour.
I then expertly navigated through the marina and around the fuel dock. In one swift motion, I turned both boats around and smoothly landed the yacht against the marina's dock without the slightest bump.
This wasn't the longest tow or the toughest salvage I have done for C-Tow, but it was perhaps one of the most time-sensitive.
Like all C-Tow captains, I quickly assessed the situation, applied effective towing techniques and used my knowledge of the area to ensure the yacht didn't sustain any further damage. It was towed to his home port securely and safely regardless of the conditions.
When it was all over, the owners were not only relieved but grateful for the successful efforts of C-Tow. Once the boat was back on land, they began a diagnostic systems check on the engines and I made my departure with yet another successful rescue under C-Tow's belt.