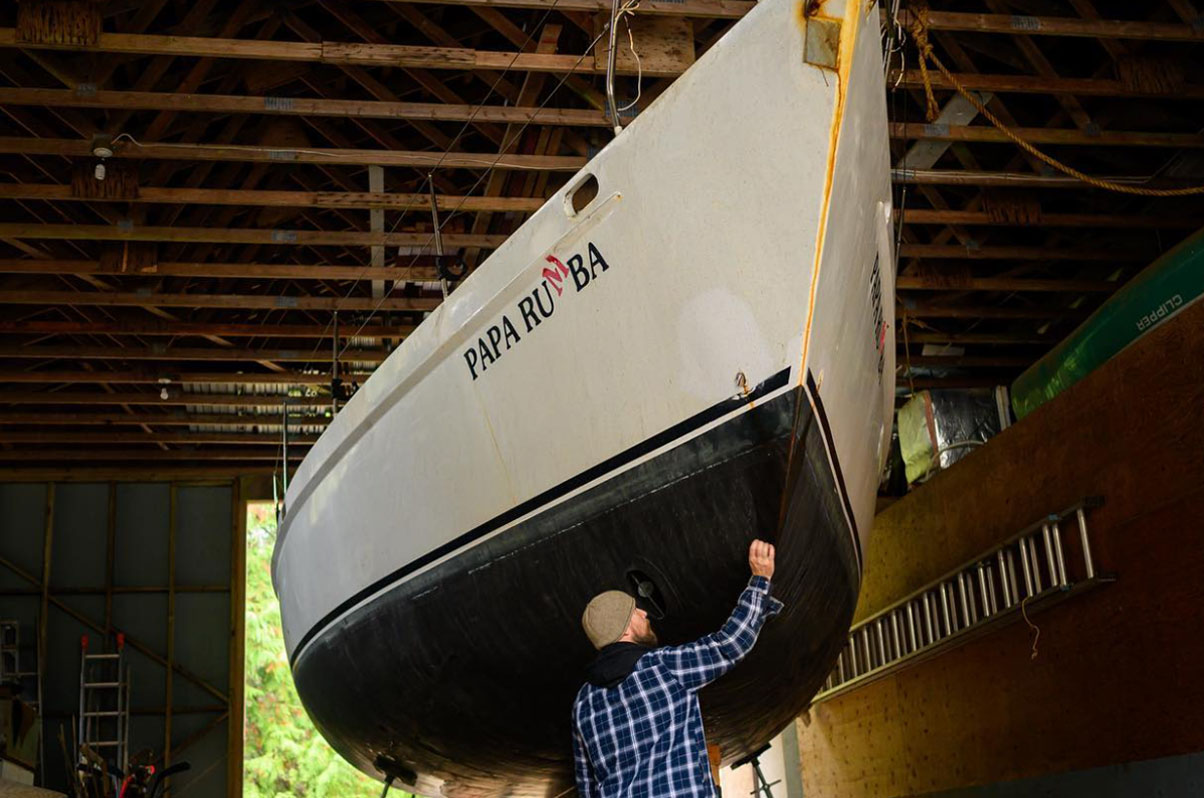 Each hull type comes with its challenges and bonuses. Whether you choose fibreglass, wood, aluminum or steel, each type of boat has different maintenance needs and different signs that the boat is doing well or going to cause you problems. Each hull type also has great features that may make you want it over the other hull types. Today I want to talk specifically about steel boats. They are often romanticized because of their strength and ability to withstand running into objects, ability to go through ice almost unscathed and their ability to be fixed in any weather conditions. But where steel boats may be forgiving from external objects, they are less than forgiving when not taken care of or built properly and can quickly turn a dream into a nightmare (ask me how I know). So here are some things to keep in mind if you are looking to purchase a steel boat:
It's not what you see. It's what you don't see. Steel boats will often rot from the inside out if they haven't been painted and insulated properly. When this happens, it may be places that you don't see which end up sinking your boat. For instance, we had a pipe in our chain locker which seemingly led to nowhere. When we started to take parts of the boat apart in order to fix the chain locker, we discovered that the pipe had been leaking condensation onto our hull at the bow of our boat for 25 years and the steel was rusting and thin right along the spine. If we hadn't found this, in a few years it might have turned into a hole with the potential to sink our boat. So what is the best way to figure out if you have a strong boat or one that has issues? Check the bilges for rust. If you find rust streaks in the bilge that seem to be coming from somewhere random, chances are you have a hidden rust issue somewhere that needs to be delt with.
Steel boats are a LOT of maintenance, and the work needs to be kept up on or it will quickly turn into a much larger problems. I wish this was just me being dramatic, but the reality is that once something starts rusting, problems quickly go from bad to worse. If you own a steel boat and want to keep it looking good and in one strong piece, you need to constantly be cleaning up rust spots as they begin.
Not all steel boats are created equal. Many steel sailboats, in North America in particular, are home built boats. This means someone bought a set of boat plans and decided to build a boat themselves. Sometimes they hire a yard, but often in North America, it is people building these boats in their backyards. This means that the boat you are looking at may or may not have actually been built to the plans it says it was. There is also no guarantee of the quality of welds, paint or spray foam in the boat, which are all things which influence the longevity or strength of a steel boat.
Painting a steel boat properly is a pain! Fixing a steel boat is a lot more complicated than just welding stuff and throwing on a coat of paint. It turns out that even painting a steel boat is a complicated process. Steel as you buy it from a store does not have the proper texture for paint adhesion. This means that you need to either sand blast or use special tools to get the proper texture on the steel in order to have paint adhere to the metal. Just sanding, like on a fibreglass boat, is not sufficient. Paint adhesion is also one of the most important parts of ensuring you have a boat that doesn't rust, so doing this properly is extremely important. And then there is also the issue of finding the correct paints for steel that will be waterproof and made for this type of metal while on the water, which depending on which country you are in can be a struggle.
Luckily when we decided to buy our steel boat, we were aware of the above challenges. We did a ton of research to find out what we wanted and what to watch out for. We were still a bit naïve, and even after finding an amazing boat that we absolutely love, we are into a major refit to fix design flaws that have led to rust issues. We have rebuilt our chain locker, which is always a problem area on a steel boat, and we are in the process of rebuilding our bulwarks (toes rails) because a design flaw meant that they led to holes and rust in our deck. Luckily for us, we had enough cash saved and the skills to pull off this project, but if we didn't, these problems may have very well crushed our sailing dreams. If you would like to see more of this steel boat refit project and the work that has gone into it, you can see it over on our YouTube channel, Wayward Life Sailing, where we are chronicling the entire refit, as well as our sailing adventures!
By Wayward Life