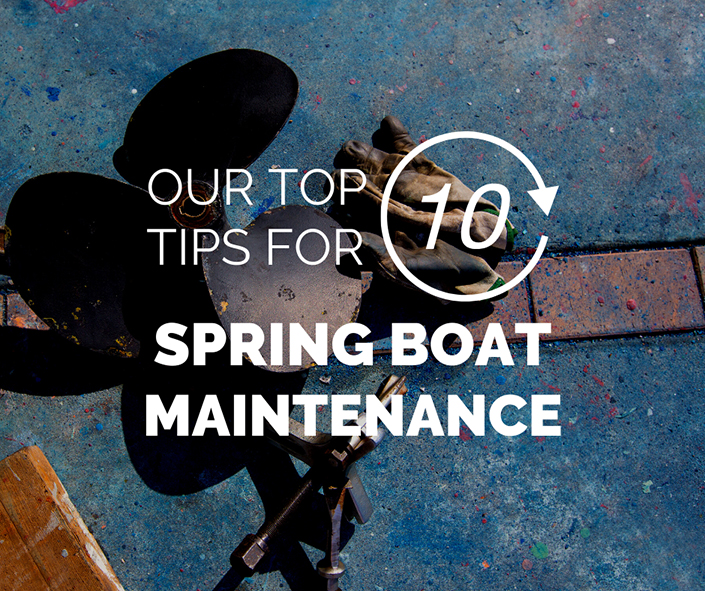 For those of you whose boats spend time on the hard over winter, it's just about time to launch that vessel once again. Follow these tips and spring maintenance will feel less like a chore.

Double check your safety equipment. Fire extinguishers have short lifespans or require inspection, and some type of PFDs need to be cleaned, recharged, or replaced. Throw a first aid kit and some spare fuses and distress flares into your storage, while you're at it, and stock up on extra supplies for guests.
Get up close and personal with the hull. Look for stress cracks and blistering, and make any repairs immediately. 
If you have an inboard engine, check and change oil and oil filters, fuel filters, coolant, transmission fluid, and belts as needed. With an outboard motor, check and change spark plugs, gear lube, every part of your fuel lines and tank, and the propeller. 
It's time for the systems check. Turn everything on and find out what's still working and what might need repair, before you're on the water wondering why a battery is dead.
Speaking of batteries, check all of those too, clean any corrosion with a wire brush, and refill any low water levels with distilled water. 
Inspect your wires to make sure they are all intact and secure with no wear or fraying. Gauges should function properly, antennas should be secure, and there shouldn't be a burned out lightbulb in sight. 
Your electronic accessories may need a tune-up too. From fish finders to radios to EPIRBs, make sure it's all in working order before you need it. 
How are your ropes? Often these are parts of a boat that don't do so well over winter, if they have been exposed to any kind of weather. Test them all, from tow ropes to anchor ropes, to ensure they still hold. In fact, examine all of your docking equipment. 
It's cleaning day. Stock up on your marine-safe cleansers and scrub the hull, windows, hatches, and other surfaces, leaving winter's grime and dirt behind.
If you use a dinghy, life raft, or even inflatable water toys, there's no time like now to make sure it's all in working condition. Whether it's for emergency purposes or for fun, when you need it, it needs to function. 
Don't forget the trailer! Check the rollers, turn signals, brake lights, straps, chains, and winch, then move onto the wheel bearings and trailer tires. 
Double-check your C-Tow membership. There are good surprises, and then there are bad surprises, like needing a tow or other marine assistance only to find that you forgot to renew. We'll still help you, of course, but being proactive saves you time and money. You're one click away from stress-free boating.