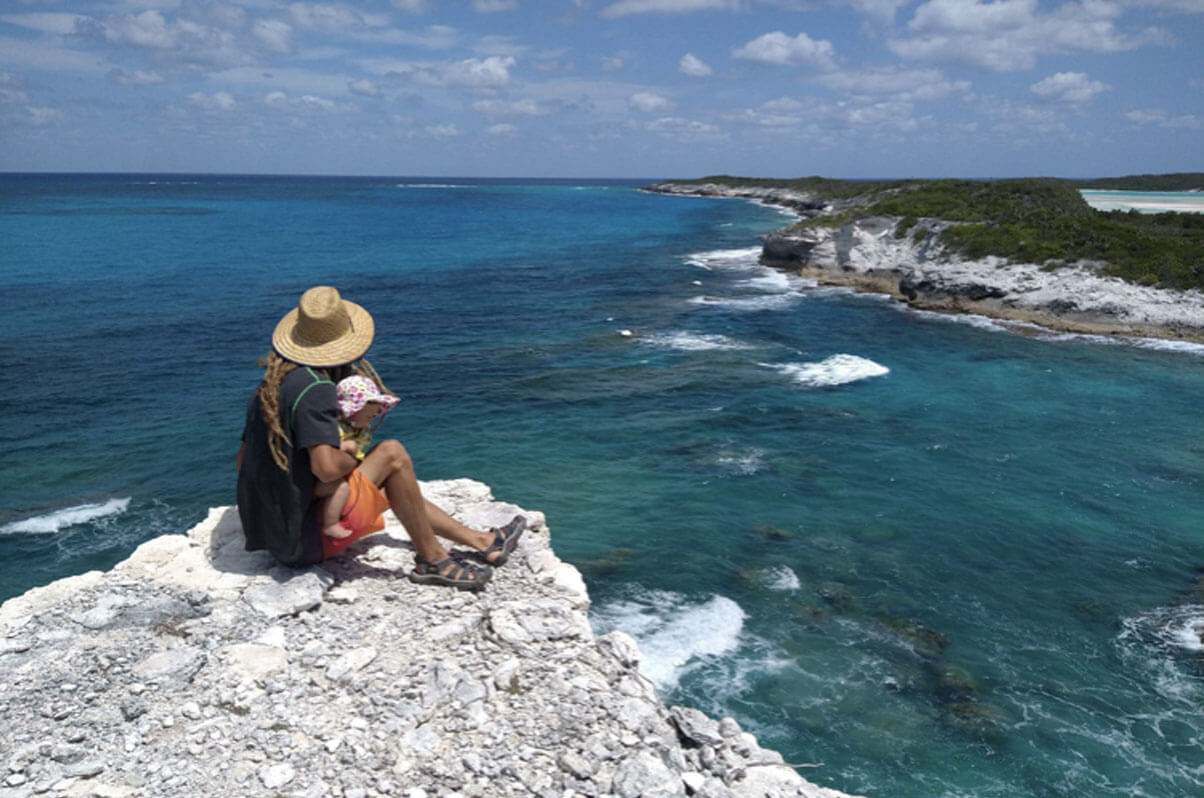 Last year we spent quite a bit of time in Long Island in the Southern Bahamas and absolutely fell in love with it. It's a special island with fewer cruisers than the Abacos or Exumas. Sometimes it really pays to sail a little further and explore new islands. We want to share with you some of its highlights we found. Of course there is still more to explore as we missed the South tip of the island.
First off, Long Island, well it's long like its name suggests. Also not everywhere is accessible by sailboat so we ended up renting a car to get a better taste of it. We rented a van from the Stella Maris Resort on the NorthWest end as well as a car from Salt Pond in Thompson Bay.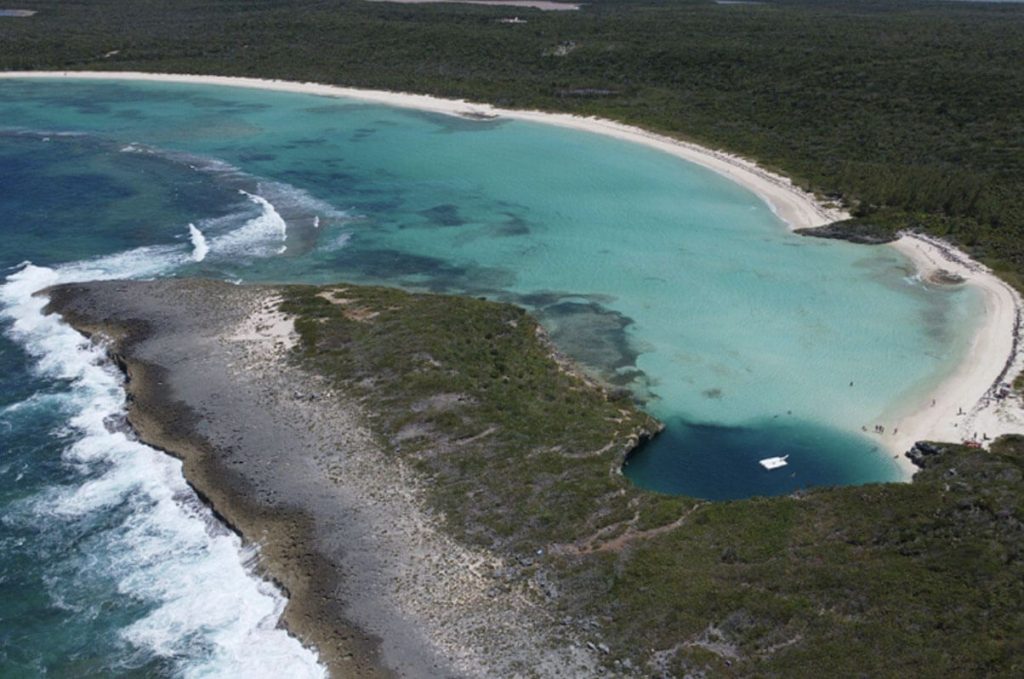 Dean's Blue Hole
The world's second deepest Blue Hole can be found here on Long Island North of Clarence Town on the East side. There is even the Vertical Blue Freediving competition which is held here annually. At 663 feet or 202 metres it is quite the sight. Right in the middle of it there is a platform where freedivers can rest, catch their breath and then take the plunge into the abyss while following a long static line. We did take on the challenge of holding our breath while trying to make it as deep as possible but of course came nowhere near the records.
Alternatively you can cliff jump into Dean's Blue Hole. You can even climb to the top of the cliff where you can marvel at the different shades of blue from light to extremely dark as you get to its deepest sections.
On the other hand many come to scuba dive this nature's wonder. We followed suit with our instructor Andy from Sink N Swim Adventures and were blown away. As you get deeper it gets colder and it feels like the light is closing in on you. Up above a circle takes shape where the sun seems so distant. It certainly is a unique experience into another world.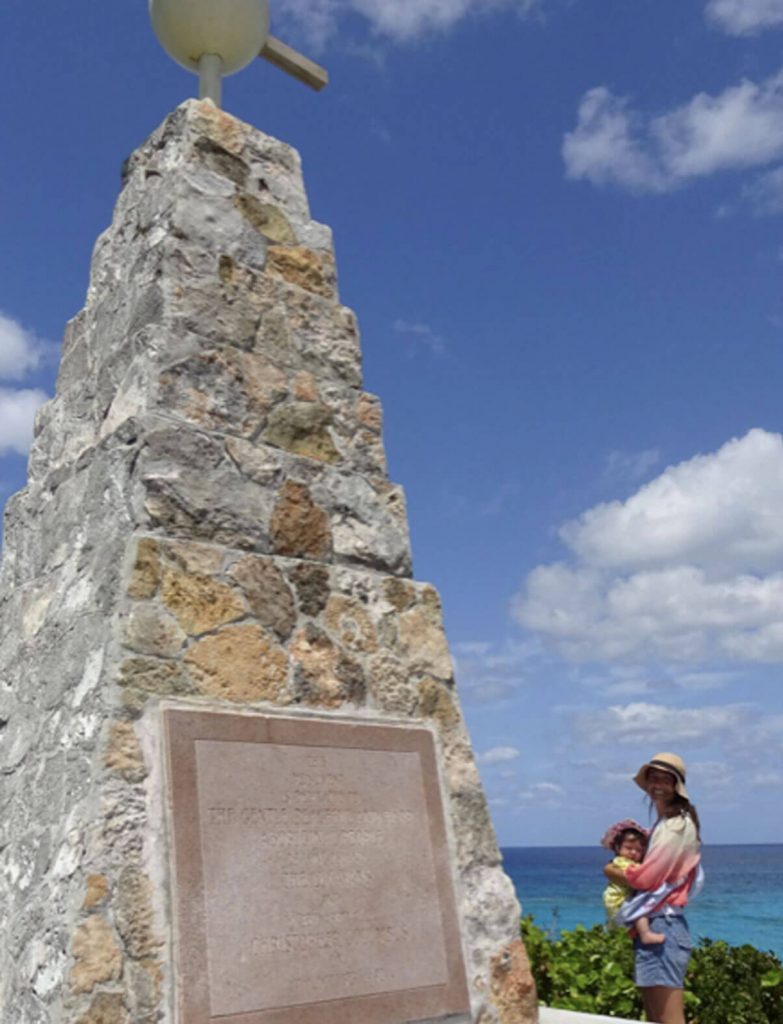 Columbus Monument/ Lucayan Memorial
If you follow the Queen's Highway all the way North, yes there is one on almost every island in the Bahamas, you'll reach a special monument. The Columbus Monument is dedicated to the arrival of Christopher Columbus back in 1492 on October 17th. It also is a memorial for the aboriginal people of the Bahamas, the Lucayans.
There is a set of stairs that will lead you to the monument and to one of the most astonishing viewpoints in the Bahamas. Surrounded by white cliffs you can stare at the crashing waves down below. The sea offers different shades of blue and it is a great location to spot vessels sailing to and from different islands of the Bahamas. There is even some potential for snorkelling in the sound next to it.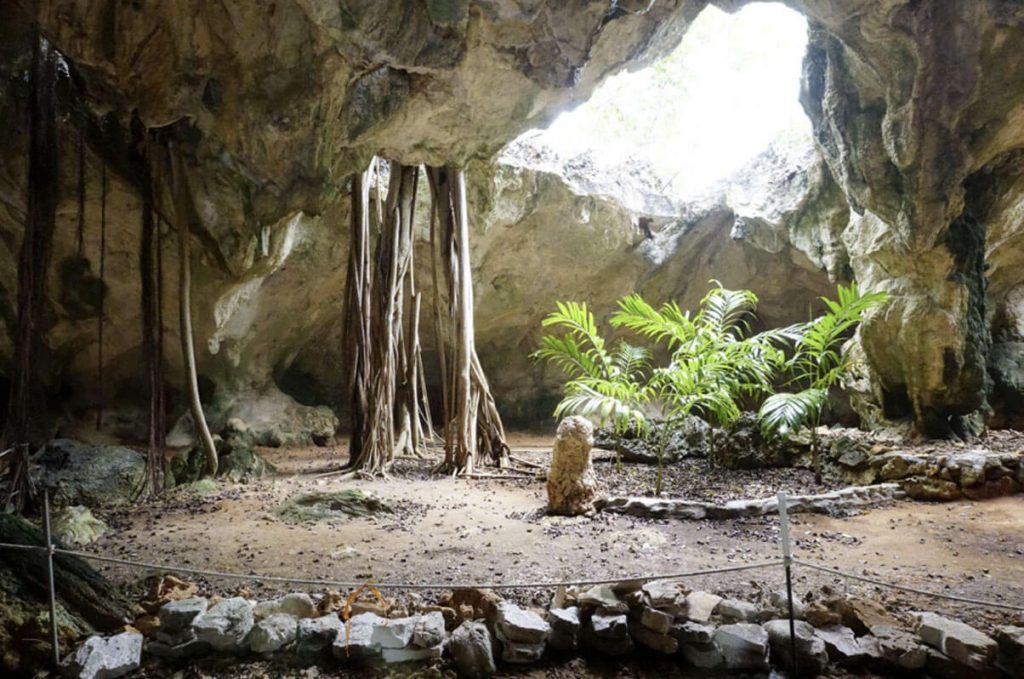 Hamilton's Cave
From underwater to land to underground activities Long Island is sure to please anyone who visits it. The largest cave system in the Bahamas has so many chambers to explore and is found in Salt Pond. Since it is on private land the only way to visit it is to book a tour with Leonard Cartwright who is a native and so full of knowledge. This cave is believed to have been home to the Lucayans in 700 AD. Leonard showed us some artifacts were found in 1936. Water from the ocean enters the cave but no one knows where it is exactly coming from. Roots dangle from the ceiling and many species of bats live here. There are many formations like stalactites and stalagmites and even some carvings. A visit well worth it in my opinion.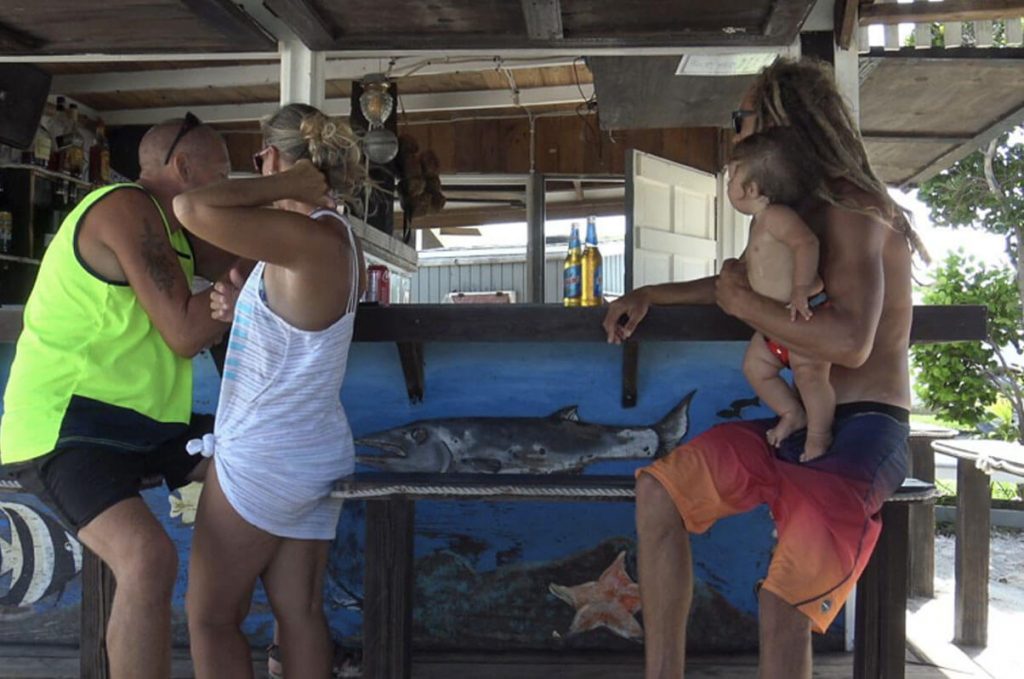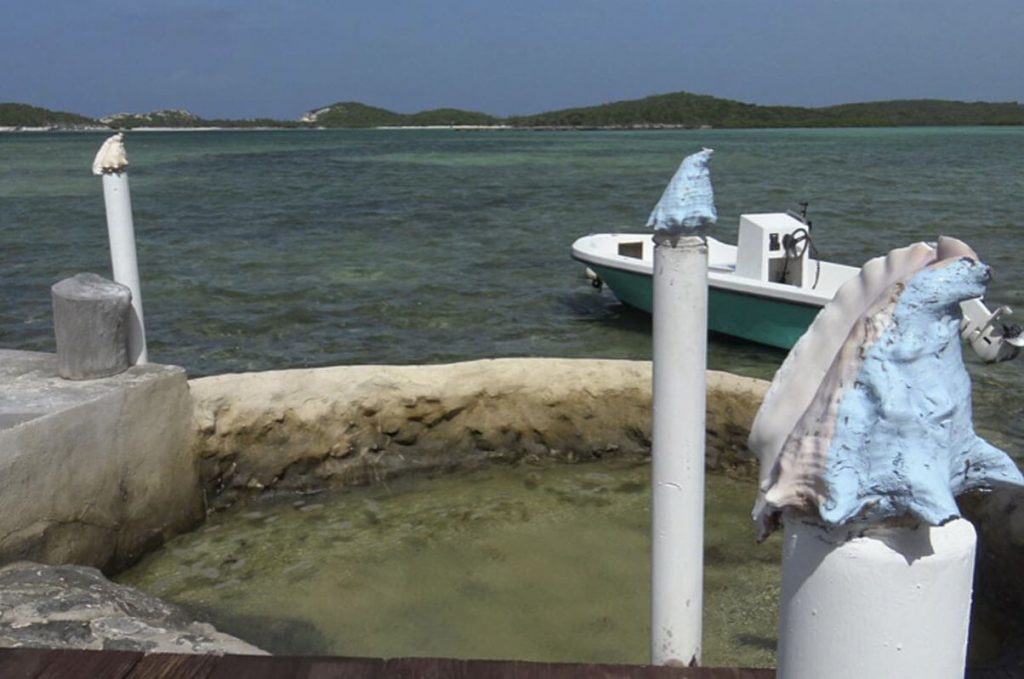 Busted Bridge Bar and Grill
As we were making our way to Newtons Cay Beach on the Northeast portion of Long Island we stumbled into this little hidden gem. Right on the water in Seymour is a beautiful little bar with nice cold drinks. However, don't look for a busted bridge to find it because it has been repaired. Unfortunately we didn't try their food but I hear they make fantastic conch fritters and conch salad. There's even a display of old items used long before electricity came to the island and plenty of seating. An authentic Bahamian experience.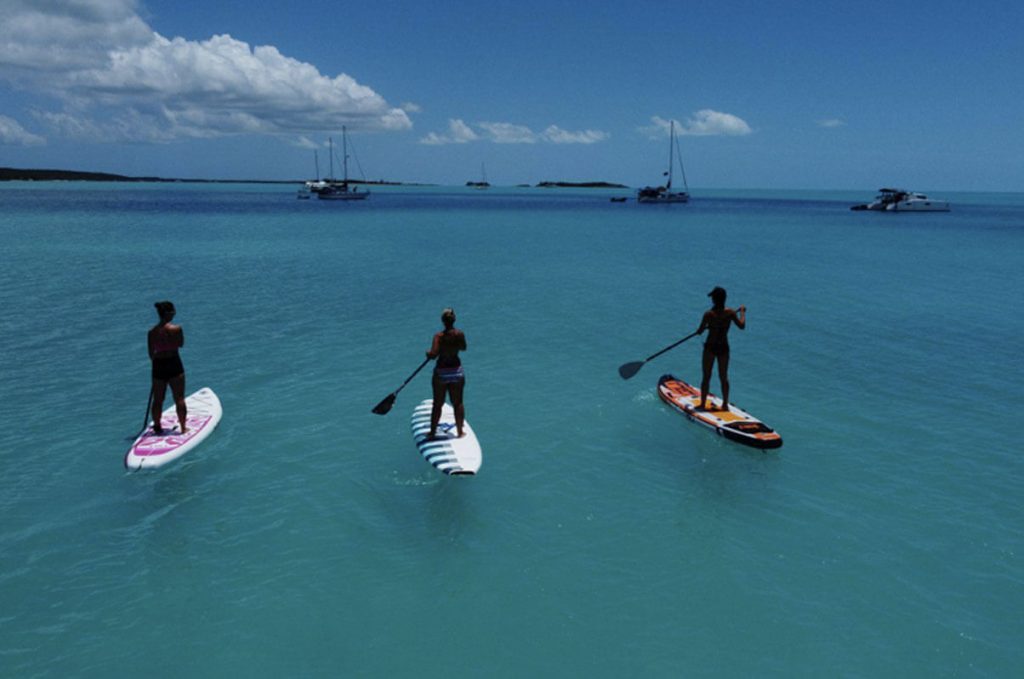 Paddle Board in Thompson Bay
This huge bay on the West side of Long Island near Salt Pond offers great anchorages in sandy bottom and a nice shelter from the predominant wind which is from the East. This turns the bay into a perfect little playground for paddleboarding. You can even spot sharks, rays and different species of fish as you paddle around. Standing up really gives a great vantage point into an aquarium. Go explore around the shoreline and see what you might be able to spot. Plus the town next to it has everything a cruiser might need and more.
Hopefully you enjoyed these few highlights of Long Island in the Bahamas. This island is very long and has so much more to offer. We did not get to sail all the way around it and I'm sure we missed a few things. Clarence Town is another good place to walk around, eat baked goods from Erica's bakery or see the sharks. There also is a lot of great snorkelling near Calabash Bay in the North. Set sail and go find other hidden gems.
Anne Alexandra Fortin
Cory and Alex share their adventure with weekly videos on their YouTube channel "Wildly Intrepid Sailing" and share stories on their website www.wildlyintrepid.com . Their dream is to travel the world and to live without any regrets.