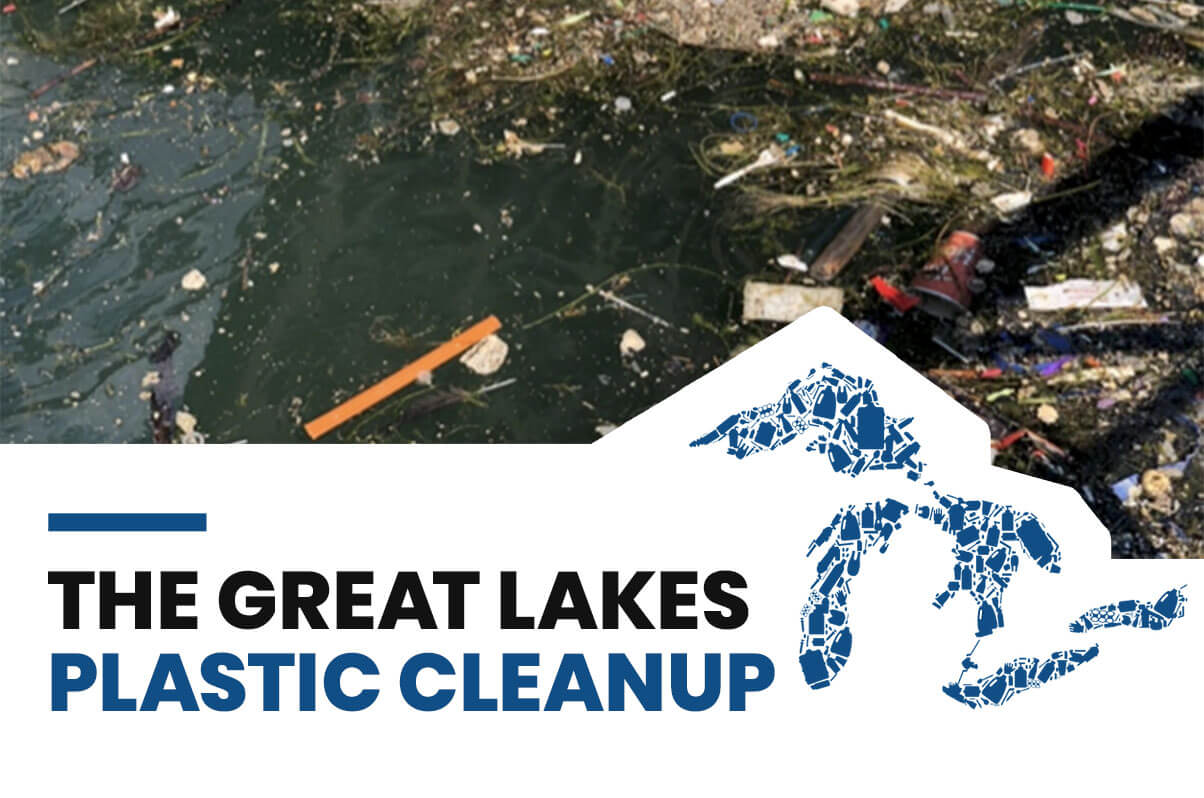 The Great Lakes form the largest freshwater system in the world and are home to countless plants and animals, some of which are found nowhere else on Earth. Those of us lucky enough to live or play in the region spend countless hours out on the lakes, enjoying the beautiful views and pristine waters. However, studies have increasingly pointed to a significant amount of plastic found in our Great Lakes, often with devastating impacts for ecosystems and wildlife, the destruction of shorelines, and contamination of drinking water.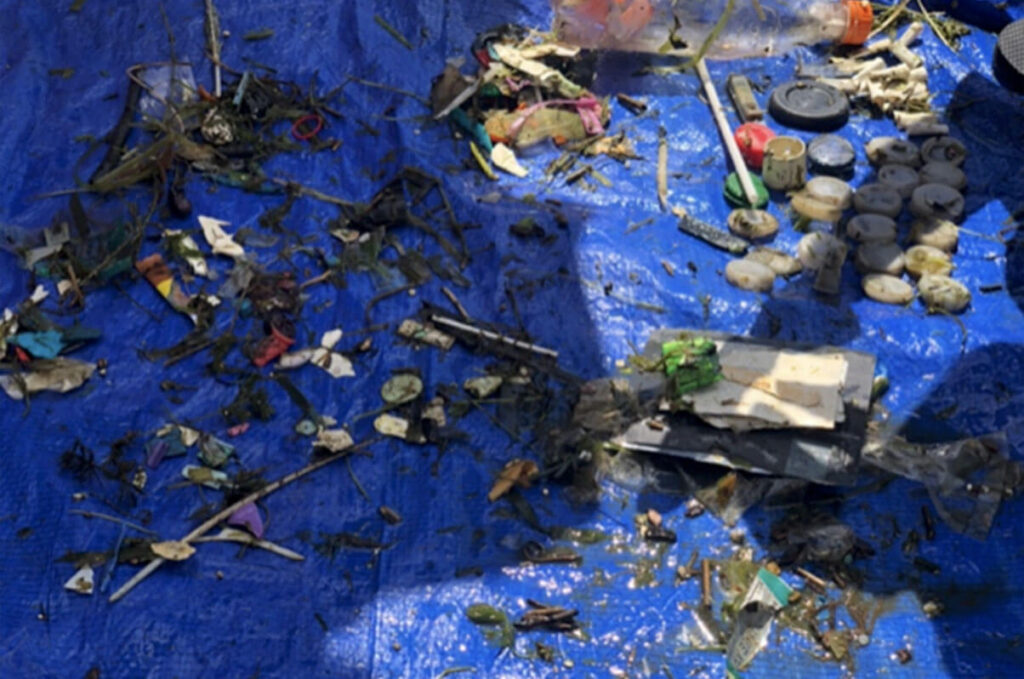 To address this issue head on, Pollution Probe and the Council of the Great Lakes Region (CGLR) launched the Great Lakes Plastic Cleanup (www.greatlakesplasticcleanup.org) in 2020. The initiative is the largest of its kind in the world, using innovative plastic capture technology to remove plastic and other debris from Lake Superior to Lake Ontario, and the waterways in between.
Through research, outreach and education, the initiative works to identify how governments, industry, and local communities can be integral players in collaborative solutions to the plastic pollution problem! At present, the initiative includes over 135 sites across the binational Great Lakes region, and it benefits from a strong network of more than 95 collaborators, including academics, rotary clubs, zoos, and environmental and local community organizations, all working to protect and preserve the Great Lakes!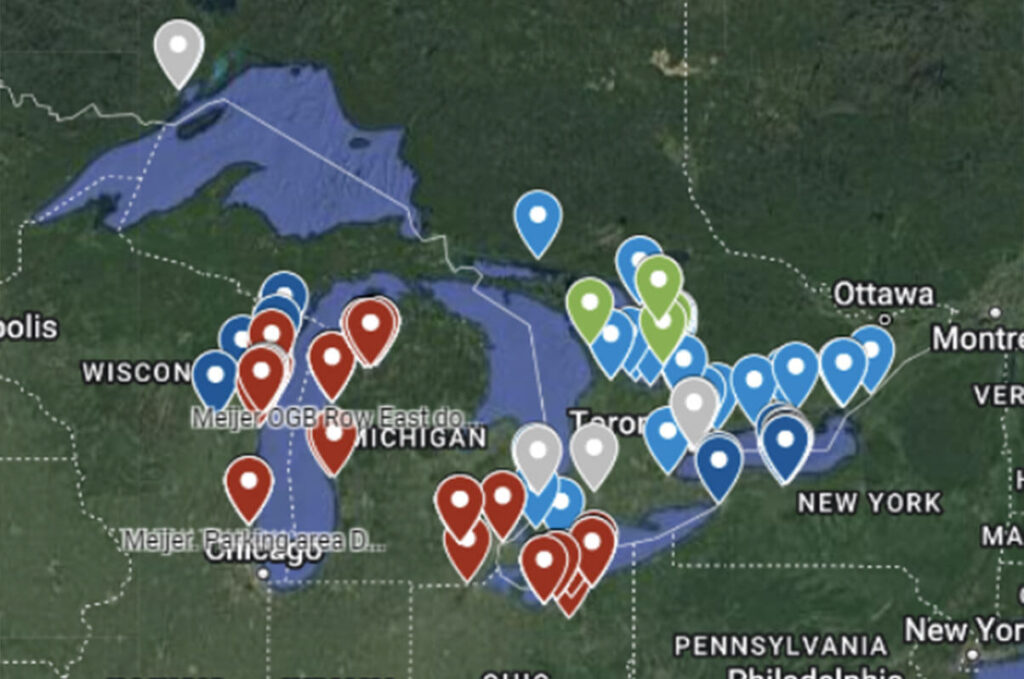 Plastic of all shapes and sizes is removed from the Great Lakes or prevented from entering in the first place through the use of the following cutting-edge capture technology: 
Seabin: A trash skimmer installed in calm water. It acts as a floating garbage bin, intercepting floating debris, including macro and microplastics (plastic smaller than 5mm).
LittaTrap: A mesh filter installed in a catch basin or storm drain that collects debris and prevents it from entering the stormwater system. 
PixieDrone: A remote-controlled mobile waste collector that targets floating debris.
BeBot: A beach cleaning robot that sifts sand, rakes seaweed, and levels sandy areas to remove plastic and other debris.
Gutter Bin: A stormwater filtration system installed in a storm drain that prevents plastic from entering our waterways.
The types and amount of debris collected by these remarkable plastic capture devices fluctuates from day to day based on geographical location and local weather conditions. Each type of technology also captures a different amount of plastic depending on whether the device is passive or not.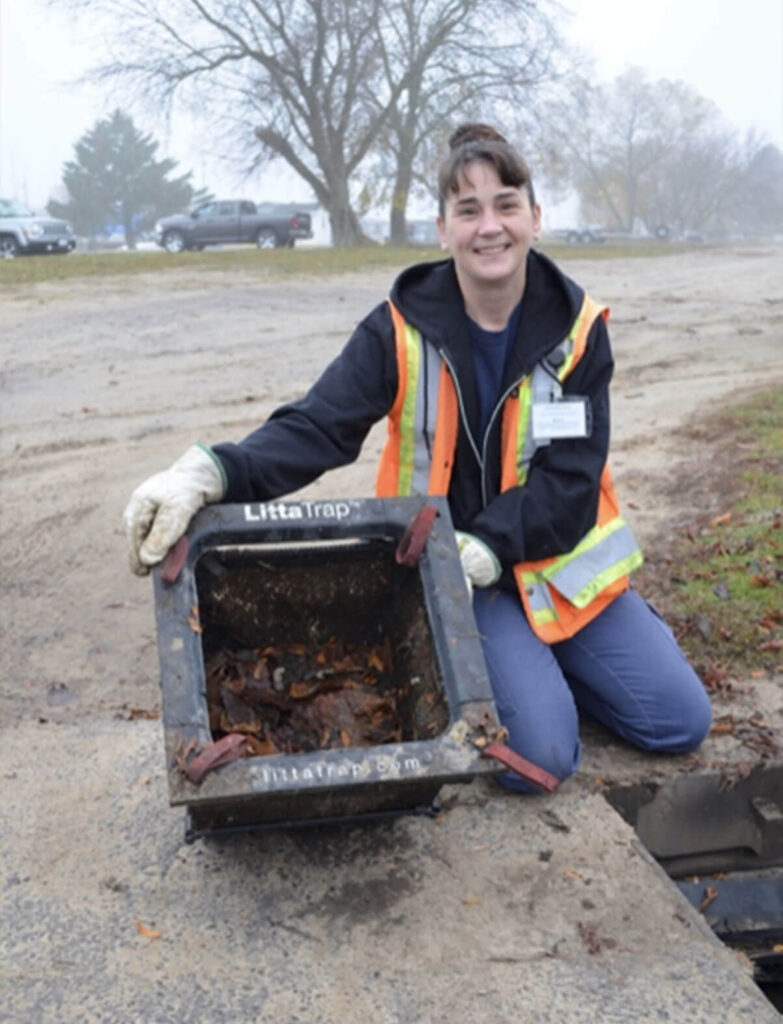 However, the Great Lakes Plastic Cleanup is not just focused on cleanup! The initiative collects important data to better understand the scale and composition of plastic debris in the Great Lakes Basin. In doing so, it aims to shed light on the complexity of the plastic pollution problem and to inform the development of immediate and long-term solutions to this critical issue. The data gathered over the past three seasons have become invaluable tools for constructing an increasingly detailed plastic profile for each of the Great Lakes. These efforts can help pinpoint trends in the types and sources of plastic pollution.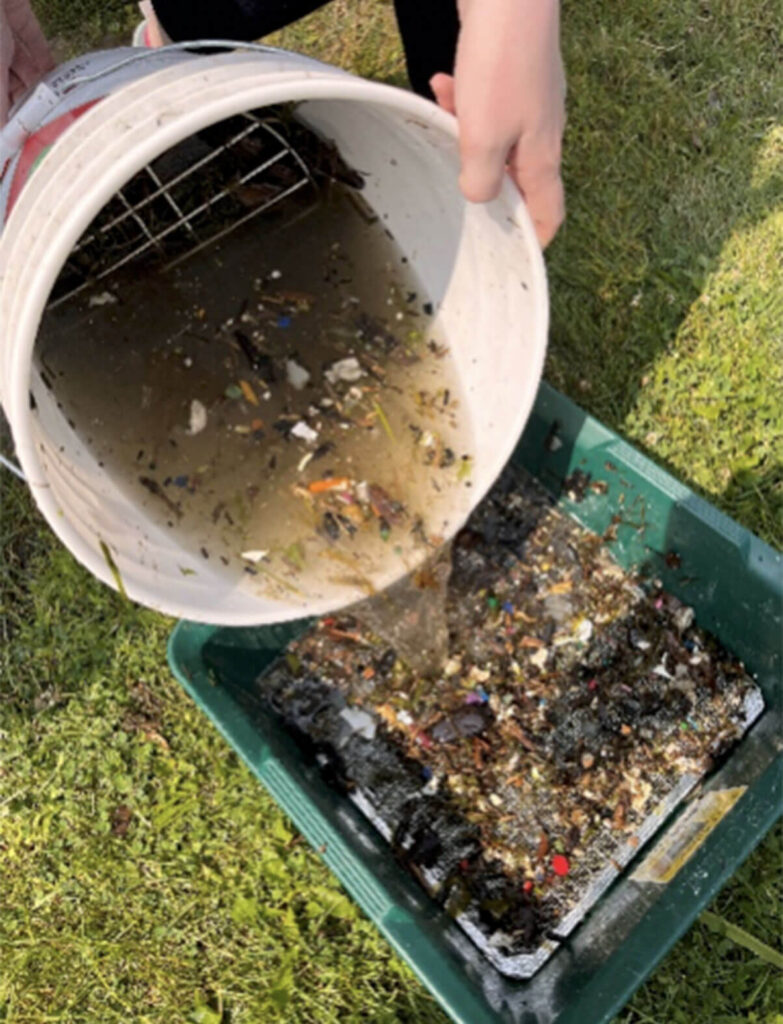 Since its inception, the marinas and partners collaborating in the initiative have reported diverting an impressive 34.66 kilograms and a staggering 134,182 pieces of plastic from the Great Lakes. Many of the technologies continue to diligently collect debris even on days when data has not been reported, suggesting that the actual volume of plastic they remove is considerably higher. Microplastics make up a large proportion of the plastic collected, with the top three debris categories being small foam pieces, small hard plastic fragments, and small film pieces. Many of these microplastics are found entangled in organic matter, further underscoring the importance of removing them from the environment.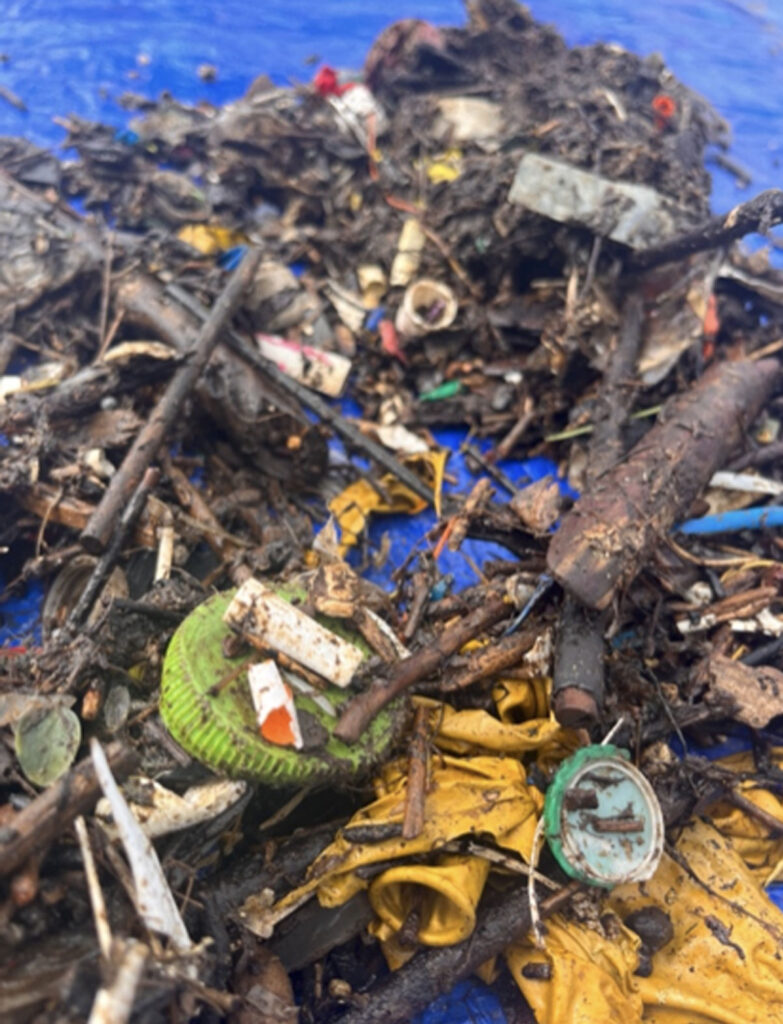 The many achievements of the Great Lakes Plastic Cleanup can be directly attributed to immense community support and commitment to ending plastic waste. Each year, the initiative engages hundreds of volunteers at waste characterization events to help sort, classify, and count plastic debris collected by the plastic capture technology. The Great Lakes Plastic Cleanup team is also active in local schools and at community events, educating about the plastic pollution problem in the Great Lakes region and bringing awareness to solutions and opportunities to take action!
The Great Lakes Plastic Cleanup brings together a diversity of stakeholders united through innovation and collaboration, with the aim of keeping our waters clean, our ecosystems healthy, and our future more sustainable. C-Tow is pleased to be collaborating with this important initiative to keep our Great Lakes clean for boaters and local communities. We all have a role to play in protecting our Great Lakes now and for future generations!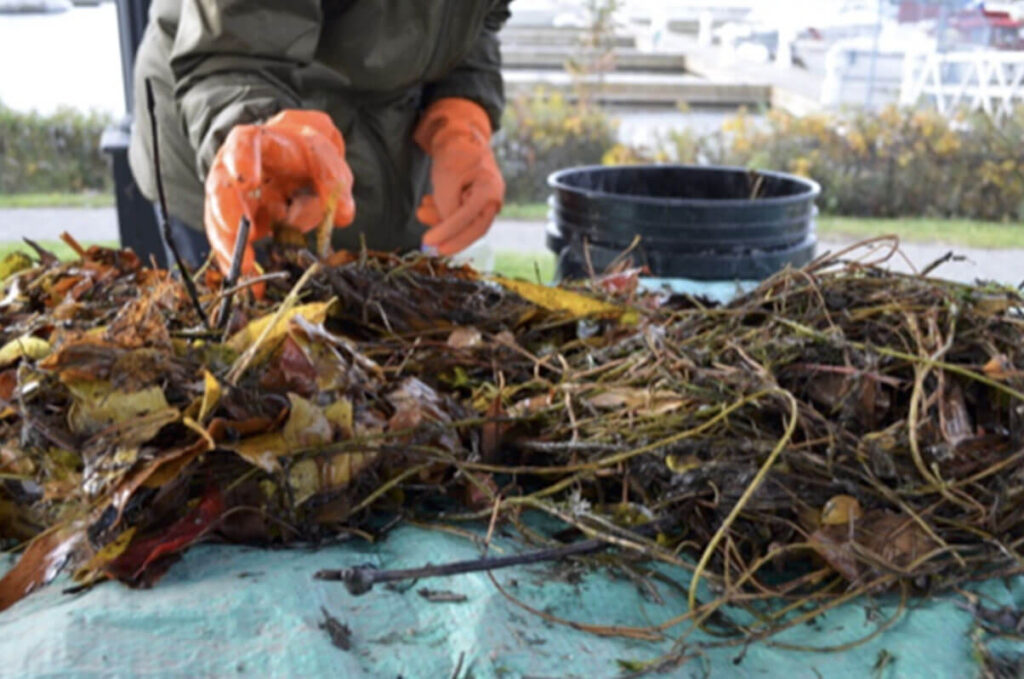 If you are interested in collaborating with the Great Lakes Plastic Cleanup or if you would like to make a donation to support this important work, please visit greatlakesplasticcleanup.org or contact us at info@greatlakesplasticcleanup.org.