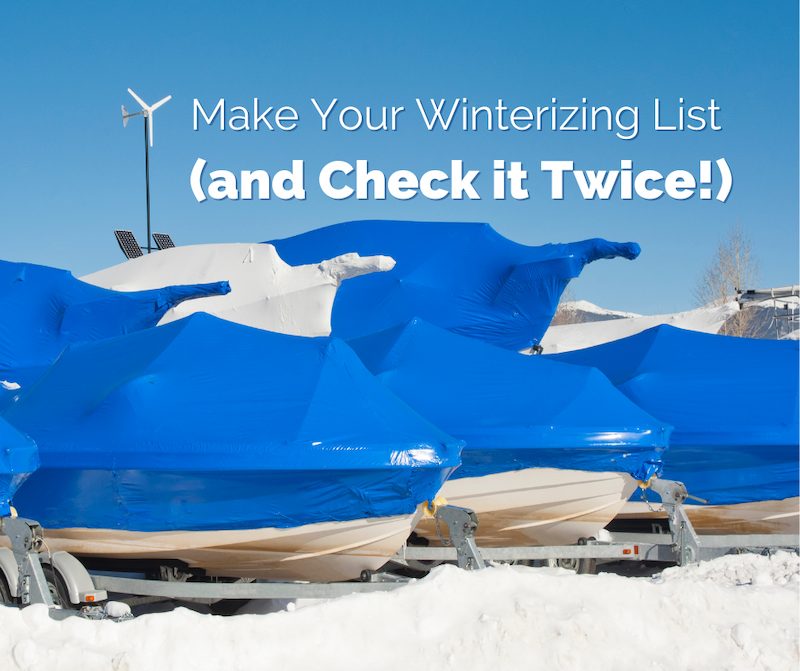 If you have yet to winterize your boat, or if you're wondering whether or not you actually crossed off every winterizing task, we're here to help. Much like Santa Claus himself, we frequently find ourselves making lists (and checking them twice… or more) to ensure we've done all of the to-dos.
Cross off all of these winterizing items, then sit back and enjoy the season until you're on the water again.
Engine(s)
Fill your fuel tanks, and don't forget the stabilizer, running the engine for about 10-15 minutes to make sure the stabilizer gets through the system. Make sure to leave enough room for expansion.
The other option is to completely drain the tank
Change fuel filters and separators
Run the engine to warm it up, then change your oil, and oil filter
Double-check freshwater cooling system for coolant levels and add as needed
Run anti-freeze through your raw-water-cooling system (ensuring you use non-toxic propylene glycol)
Specific to Outboard(s)
Flush and drain water from the motor
Drain gear case and add lubricant
Batteries
Leaving them on board? Check for tight, corrosion-free connections and hook them up to a marine-appropriate charger, or leave them unplugged returning to charge fully once a month
Removing them? Store in a cool, dry place on a trickle marine charger. Make sure the battery is fully charged before storing.
Below and On Deck
Clean and dry bilges, and double check your pump operation while you're at it
Drain any systems using water, and add propylene glycol antifreeze
Pump out the holding tank (be sure to add antifreeze to the head!)
Clear out any garbage, food, beverages, or other pest attractants
Bring your valuables home!
Remove and store cushions, ideally in a low-humidity environment to avoid mildew
Wash your boat, and make note of any damage that should be repaired before spring thaw
Secure ports, hatches, and anything else with a lock
Storage
If you're storing in the water, close all seacocks except for the cockpit drains, and plug exhaust ports
Check your dock lines, chafe guards, and fenders
Tie off the tiller/steering wheel
On land — invest in a high-quality cover, or professional shrink wrapping, ensuring adequate waterproofing and air circulation either way
Check on your boat periodically or have someone check on it for you