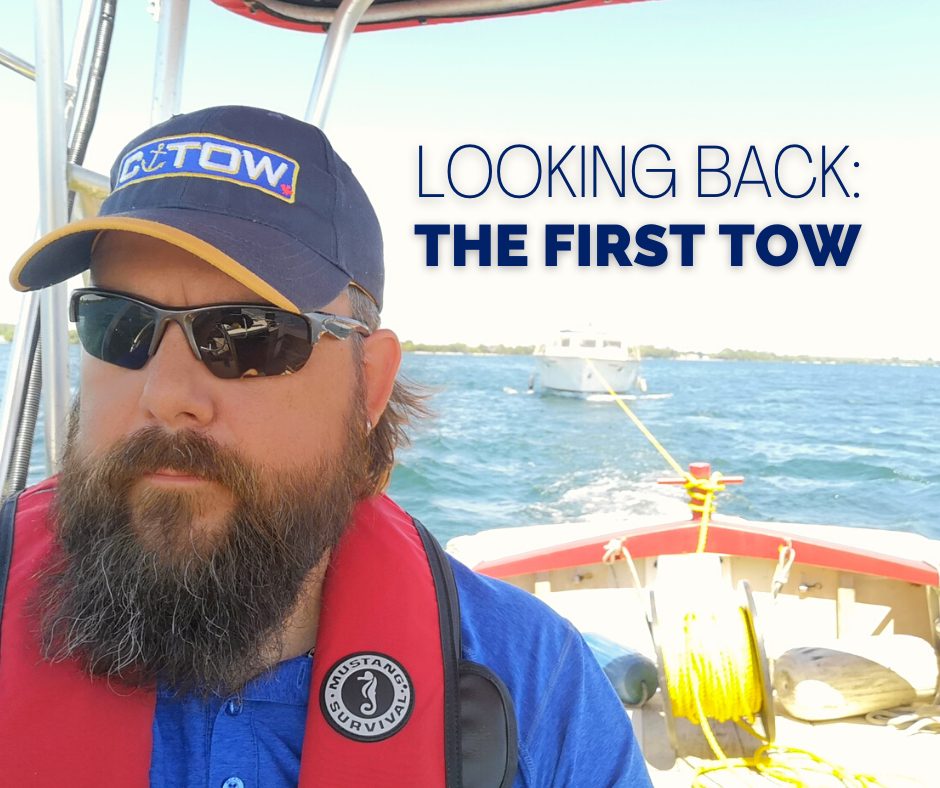 The first tow of the season is always exciting for our C-Tow captains, and the first tow on the job is that much more memorable. C-Tow 1000 Islands Captain Matt Bradley still remembers that first tow well. 

"There was a day that it was really stormy, and I had just watched the patio furniture go flying off of our deck and across our driveway," he recalls. "And I thought, well, it's probably not the safest weather to go out today. This wouldn't be a great time to get a call. Within about five minutes, I got a call."

Of course, our captains are ready and willing to help out in all kinds of conditions, so Captain Matt headed to his boat.

"I wanted to see the water firsthand and see what it was like. By the time I got there, the rain and the wind and everything had just stopped, and the air was calm… I called the customer. He said, yeah, everything's okay. He managed to tie off on a dock. So I headed up the channel and got to him."
The whole way to the customer's boat, Captain Matt says, the waves rolled heavily on the St. Lawrence despite calmer winds. This necessitated some quick thinking upon finding the customer. 

"I got there and his bow was just slamming up and down and up and down. He had this pulpit on there. I was worried about how I'm going to get under the pulpit to hook on to the bow tow eye. I was going to just make up a bridle and tow him from a bridle, so I wouldn't have to go under there. But as I got closer to his boat, I realized that while his boat was going up, mine was too. And while his bow was going down, mine was too. We were in sync."

With the boats aligned, Captain Matt was able to tie on to the bow tow eye and easily get the vessel underway, though the return trip was just as rocky.

"As we're coming along, the waves are getting bigger and bigger and bigger. We're getting closer to Lake Ontario — the marina I was pulling him into is at the mouth of Lake Ontario, which is the marina that had come out… I was thinking wow, I'm really smashing through these waves. I look at the spray coming off and then I looked back at the boat that I was towing, every time I would hit a wave I would look to see how their boat was handling it."

"I went on the radio because I thought, after about 20 minutes of bouncing through waves like that, he might not be feeling well so I have to check on him," Captain Matt says.

Despite the rough waves, the customer reported he was feeling fine. When they got back to the marina, Captain Matt says, "He was really happy and glad to be safe at the dock. I was really happy and I felt a good sense of pride that I got my first tow done, and successfully. It was relatively uneventful, but it was interesting and unforgettable."

Three years later, Captain Matt doesn't bat an eye at tough weather.

"Now I've done tons of those and been out and helped lots and lots of boaters," he says.

Come rain, heat, snow or gloom, our captains are committed to quality marine assistance.