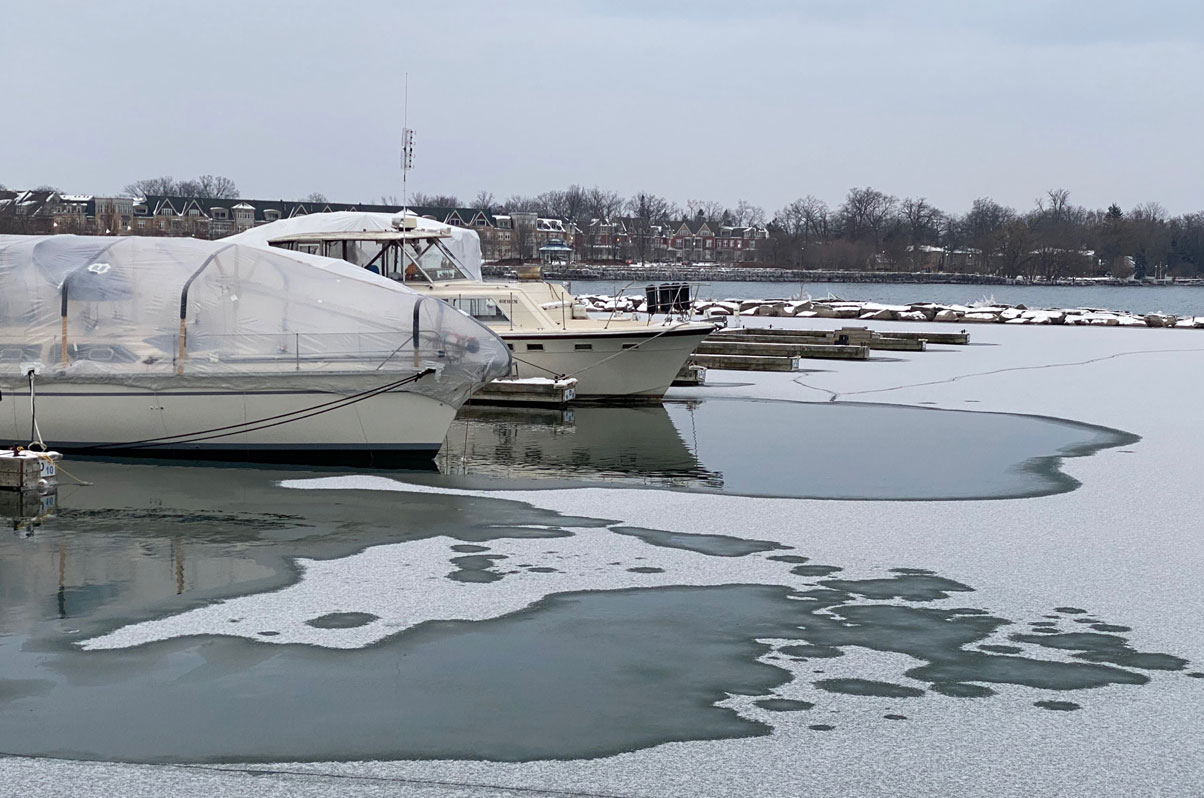 It was October 31st and the boat sale was now finalized! We had the option to keep the boat on the hard where it was or put it in the water for the winter and live on it. We tossed the idea of living on the boat through Winter jokingly, until we realized that we needed to do everything we could in order to save as much money as possible. It just didn't make sense to keep my condo that was literally a hop and skip away, three minutes up the road while paying to store something we could technically live in. It was at that moment we knew it was going to be the most interesting Winter of our lives…
At this point, we had already pretty much sold everything that we did not plan on sailing off with. A week later, we were on the boat and with the winter chill setting in quickly we knew had to build a plastic enclosure for the boat. The plastic enclosure acts like a greenhouse in the sub zero freezing conditions that the harsh Ontario Winters bring.
Building an enclosure for your boat sounds like an easy task… but it's far from that – especially when it's cold, snowing and you have no clue where to start! After a couple years, I imagine it gets easier. You need to build a solid skeleton out of wood, plastic tubing or whatever creativeness that you can come up with. The only thing you need to make sure of, is that it'll be solid enough to withstand violent winds, blowing snow. You don't want your enclosure blowing away in a storm. I've personally seen this happen and it's quite the show. Imagine 100 feet of plastic wrap whipping around like a flapping sail. The shrink wrap needs to be heated and shrunk to produce a ridged structure. The process of building a solid enclosure took us about two weeks, which included the planning and building. After its completion, we won the award for "Best Newbie Shrink Wrap" on the dock! That gave us a chuckle and we gave ourselves a good pat on the back.
Next, we had to situate a bubbler either to the bow or stern. The bubbler raised the warmer water from below to the surface. This prevents ice from forming around the boat and damage to the hull as a result of same.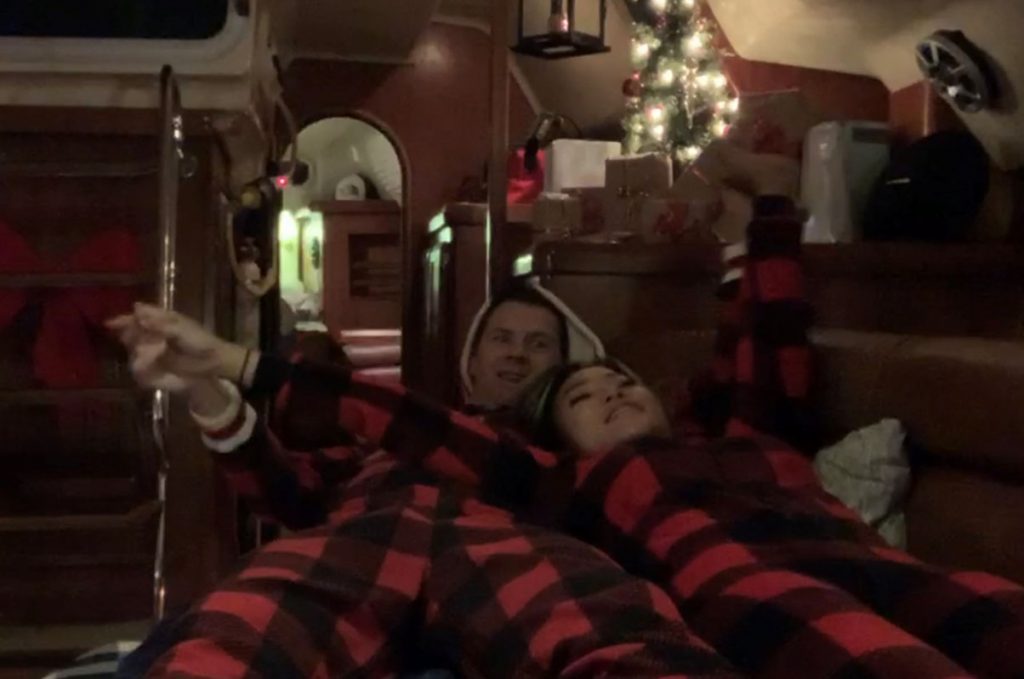 If your boat is over 36 feet long, you need to pay for two outlets with 30 amps of shore power each in order to run all the heaters (we had a total of five space heaters in our boat) and to run the bubbler when needed. This was a huge learning curve for us coming from land life where we never had to monitor amperage levels. We certainly learned a lot about how much power different appliances draw. We were maxing out our 60 amps of power on a regular basis we had to juggle what was running and what we had to shut off. For example, if we needed to use the microwave or turn the bubbler on, that meant one of the space heaters would need to be turned off. We learned that running the heaters at 75% capacity was sufficient in keeping the boat warm enough without drawing more power than we needed in order to turn our water heater on. We lived day to day monitoring many amps we were using quite diligently in order to prevent blowing any breakers. The more the breakers blew (which they did), the weaker they became and as a result, would trip more easily. This is not what you want while living in 0 to -1 degree water 1 with wind chills of anywhere between -20 to -40 degrees Celsius.
Once you get the power consumption all sorted, it becomes second nature and life gets a little more "normal". It starts to feel like you're living in a cozy little cabin….until you run out of water on the boat.
The marina shuts off all water to the docks over the Winter to prevent the pipes from bursting. How far you're docked from the one tap that's left on (usually located inside a building somewhere), will determine how challenging refilling the water tank is. When the water ran out, I was in for an hour long workout, whether I wanted one or not! I had to trek two 20L jugs about 500 feet from our boat to the warehouse back and forth 12 times to refill our water tank (and we have a small tank!) At roughly 45 pounds per jug, it definitely was a work out. Luckily, later in the season our fellow liveaboards grew tired of this and put all their hoses together… and I mean a LOT of hoses. Trips to the water tap became much easier for all of us living through the Winter. If someone brought the hose to the dock, we'd let everyone know so it'd be more convenient. You can imagine what a pain 500 feet of hose was to put away in the cold weather.
Winters are long in Ontario and even longer when living on a boat but I'm glad we had the experience. It was a fantastic experience and I'm sure the more Winters you live through, the easier it becomes. Four of our dock neighbours had been living aboard for over 20 years and they love it.
I would say the best part of living aboard in the marina were the people we met. We were all in the same "boat" so to speak and everyone is willing to lend a helping hand. It's really cool just how close the boating community becomes through the Winter and we certainly created a lot of great memories with amazing people.