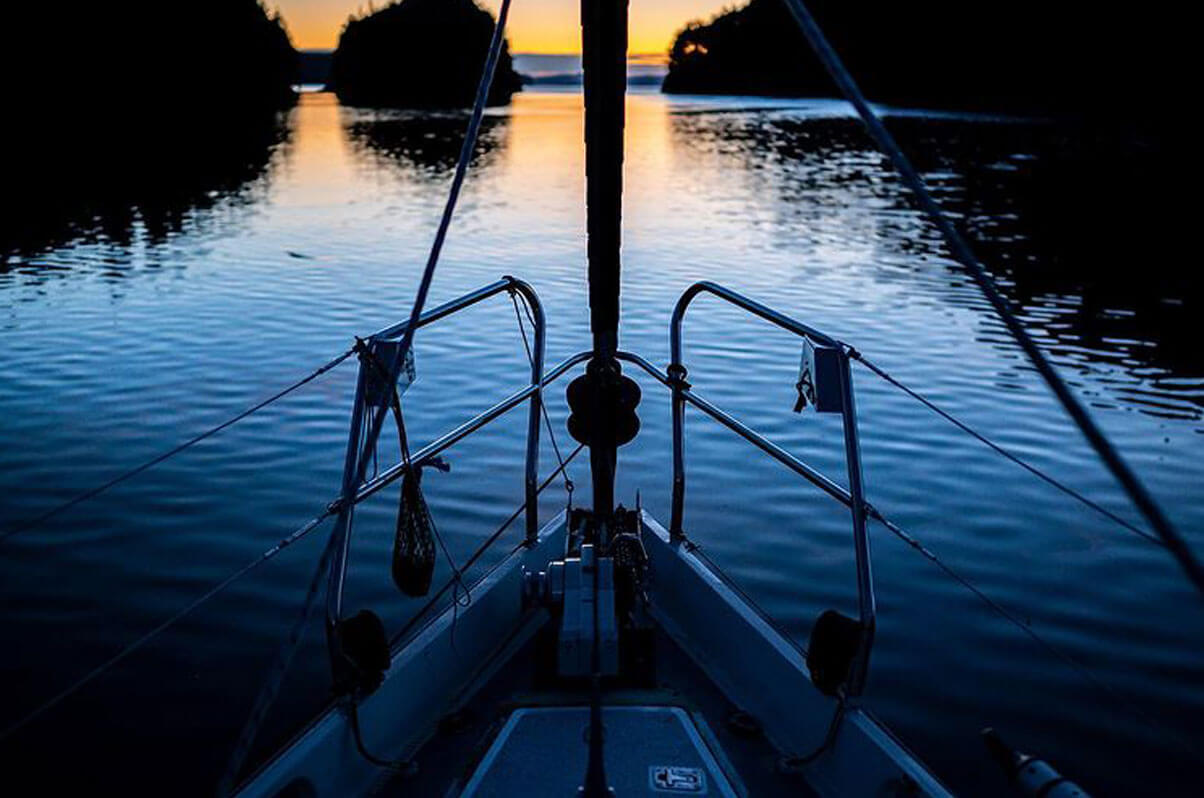 Last summer we decided to go off-grid for two months. What does that mean exactly? For two months (minus a couple of days) we did not plug into an outside power source, we weren't plugged into any larger plumbing or heating grids and we were generally far away from people. For a good chunk of the time we didn't even have cell service and what we did have was spotty. There were a couple of exceptions, such as spending a few days at the dock when we left the boat, or stopping in at a marina to refill water and fuel every couple of weeks, but otherwise we were self-sufficient.
There is something incredibly powerful about being unreachable with nothing around you but nature. It is both a freedom and a burden, but more a freedom and a peace than anything else, as long as your basic needs are still being met. And feeling as though we needed to meet those basic needs ourselves with little input from other humans also felt like a freedom of its own.
The first week of being off- grid was both amazing and a bit unnerving. We went straight from the city of Campbell River to a little anchorage with no cell service and no other boats around. We were completely alone, save a couple of workers at a fish farm nearby. This was my first time being off- grid and away from cell service for more than a couple of days and I was feeling a little bit naked and alone without having the stimulation of my phone to keep me company. We weren't sure how long we would be in that area as we waited for calmer winds and calmer seas, but we had a clear water source nearby, a full fridge, as well as ways of gathering ourselves some food, and enough solar to run all of our equipment. We knew we would be fine. We were forced to get creative about how we ate and used water. We looked at the land around us differently as we tried to figure out what we could add to our diet to lengthen our stay away from civilization, and we looked for creative ways to get creek water from land onto the boat.
Soon the peace that is awarded by being out of cell service began to overtake me. Instead of worrying about the notifications on my phone, I wondered about what I wanted to learn from the next book I read. Instead of stressing over the emails I had to reply to, I asked myself which food I wanted to harvest from the nearby shore. Life became about what was right in front of me- what was in my own mind and my direct environment- instead of about what was being asked (or demanded) of me from the outside. I suspected that this feeling of peace might dissipate as we moved to other places in our continued travels, but it didn't. Instead, with every day and every new experience of peace and quiet, that sense of peace sunk deeper into my bones.
To say these two months was healing is an understatement.  They were life altering.  My heart and nervous system began to match the rhythm of the ocean and the call of the ravens.  Years of stress and anxiety melted away into the waves and the chronic pain which had plagued me for years disappeared.  I began to dread the inevitable return to society and regular life, yet the present was so perfect and incredible that I had no problem staying connected and in the moment. 

We have been back on land doing boat refit work for 10 months now.  I often re-watch videos from these summer adventures and look at the pictures from our time out there away from civilization to bring me back to a place of peace and to remind me of why it is that we are working so hard to get our boat back in the water. Living on a boat is far from easy, but it is 100% worth it.  
By Wayward Life