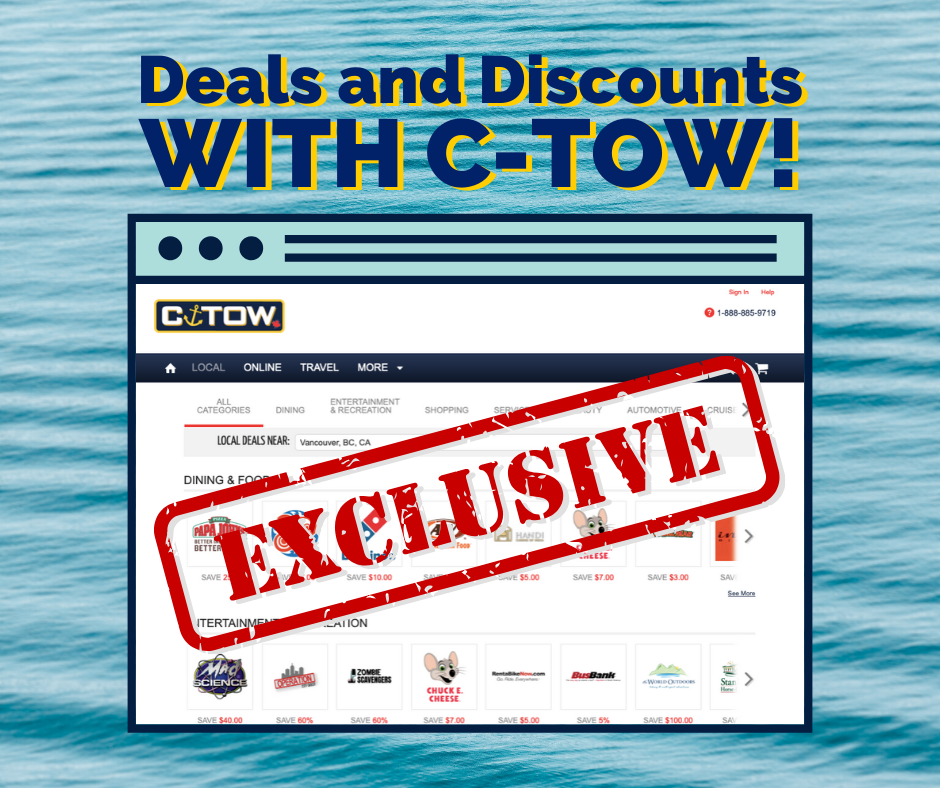 You know the value of your C-Tow membership on the water, but did you know that your membership also extends to great deals and discounts on dry land? We're thrilled to introduce our new discount and deals program, automatically included with your regular C-Tow membership.
As mariners, travellers, and discount enthusiasts ourselves, we know the value of a good deal on and off the water. So, while you rely on C-Tow to have your back and keep your dollars in your wallet when it comes to marine assistance, you can equally rely on us to stretch your budget for dining and food, entertainment and recreation, shopping, travel, and more.
Picture this: after a relaxing day spent on your boat, enjoying all the sights and sounds of Canada's great waterways secure in the knowledge that if anything goes wrong you can call C-Tow, you're feeling a bit hungry. You quickly navigate to our deals and discounts, find a restaurant near you, and locate a coupon that keeps more cash in your pocket. With that extra money, maybe you'll be able to put it toward a ticket for an attraction the next day, and while you're at it, get a free second admission thanks to C-Tow. Or, you could set it aside for your next vacation, and stretch it even further thanks to our discounts on hotels, resorts, and travel. It all adds up to more fun for you, while keeping your finances in shipshape!