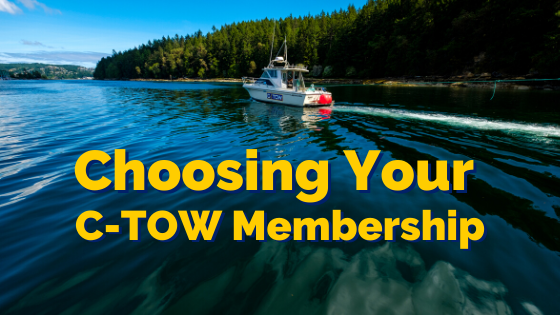 If you're reading this from Ontario, Nova Scotia, or Newfoundland, you're due for a new membership for next year! For our BC and PNW friends, there are two options: a year-round membership, or one that runs from May 1 to October 31. Whichever membership you had this year, or if you're looking at becoming a first-time C-Tow member, we're happy to help you select the right package for your needs.
Here's a quick run-down:
COMMANDER PLAN
ON, NL, NS
With this plan you'll have access to all C-Tow services — emergency arrangements, soft ungroundings, fog shepherding, jump starts, radio checks, advice, and more — plus two tows per year and unlimited service calls, all at an affordable rate of $100 a year.
CAPTAIN PLAN
BC Only
This is our most popular membership plan for BC boaters, with all of our services, two tows per year, and unlimited service calls at $160/year.
ADMIRAL PLAN
BC/PNW Only
Year-Round
If you're in BC or Washington waters regularly, this is the perfect premiere plan for you. On top of regular C-Tow services you'll enjoy unlimited tows, unlimited service calls, and extended coverage through Vancouver Island in the north and Washington State in the south. At $200/year, it's a steal of a deal.
A C-Tow membership is the best investment you can make in peace of mind on the water. Make your next boating season the most stress-free yet! To join up, or to renew your existing membership, it's as easy as heading to our website. https://c-tow.ca/memberships/