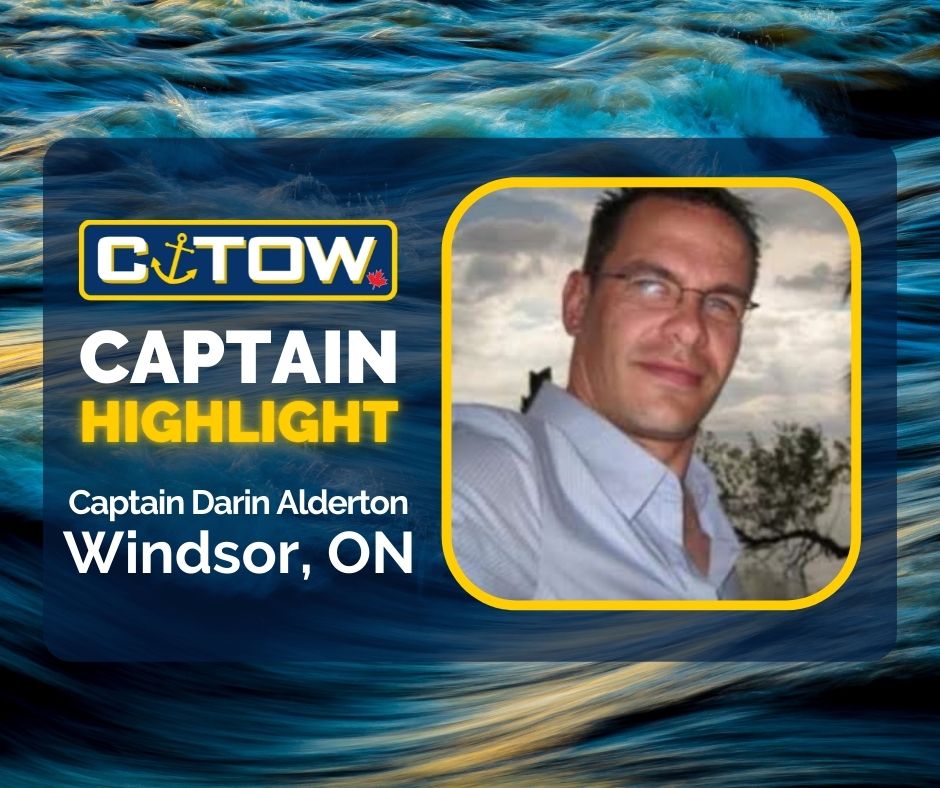 Darin Alderton
Windsor, ON
Darin Alderton lives in Leamington, Ontario. He is captain of 15 other captains in Essex and Kent County areas. He says he's "a water boy through and through."
A Huge Area
I run C-Tow Windsor and C-Tow Sarnia from my boat, and we cover Wheatley to Grand Bend, including Sarnia, Lake Erie, Detroit River, Lake St. Clair, St. Clair River, plus 25 per cent of Lake Huron. It's the southern tip of Ontario, and has a long boating season and easygoing people.
Favourite Spot
A beautiful destination only accessible by boat is Crystal Bay on Lake Erie. You can camp out on the fine sand and enjoy nature. If you want a party, join the Potthawke Weekend; it's an annual event on Lake Erie. Great fun.
The Love of Boats
I was racing jet skis at age 15 and was always into power boat sports. I worked for the federal government for a few years, then crewed on sailboats and a large yacht. My boat is an ex-fire department boat, a 25 foot Cherokee, so it needed no modifications to serve as a rescue vessel.
My C-Tow Story
C-Tow gave me the opportunity to use my qualifications and become a leader in a Canadian company. One of my mentors is a fire fighting captain and he encouraged me to get into marine assistance. It's similar to my volunteer fire fighting service.
The Best Thing
I enjoy the water, it's what I love the most. Working on the boat clears my mind, calms me. Yet it's exciting, and you have to be ready for anything. I get to meet people from all over southern Ontario as well as long term trippers from the US and the Caribbean.
Most Memorable Rescue
I actually saved a life on the Detroit River. Leaving the dock, this guy's boat hit a piling, threw him forward, knocked him out. The boat got tangled up in rope. There was no CPR. I just happened to be there when he hit it. It was being there at the right time, and the right place.
Safety is Key
I tell people to pay attention to the weather and water conditions; they change rapidly, you got to be prepared. Get the C-Tow membership for peace of mind at sea.