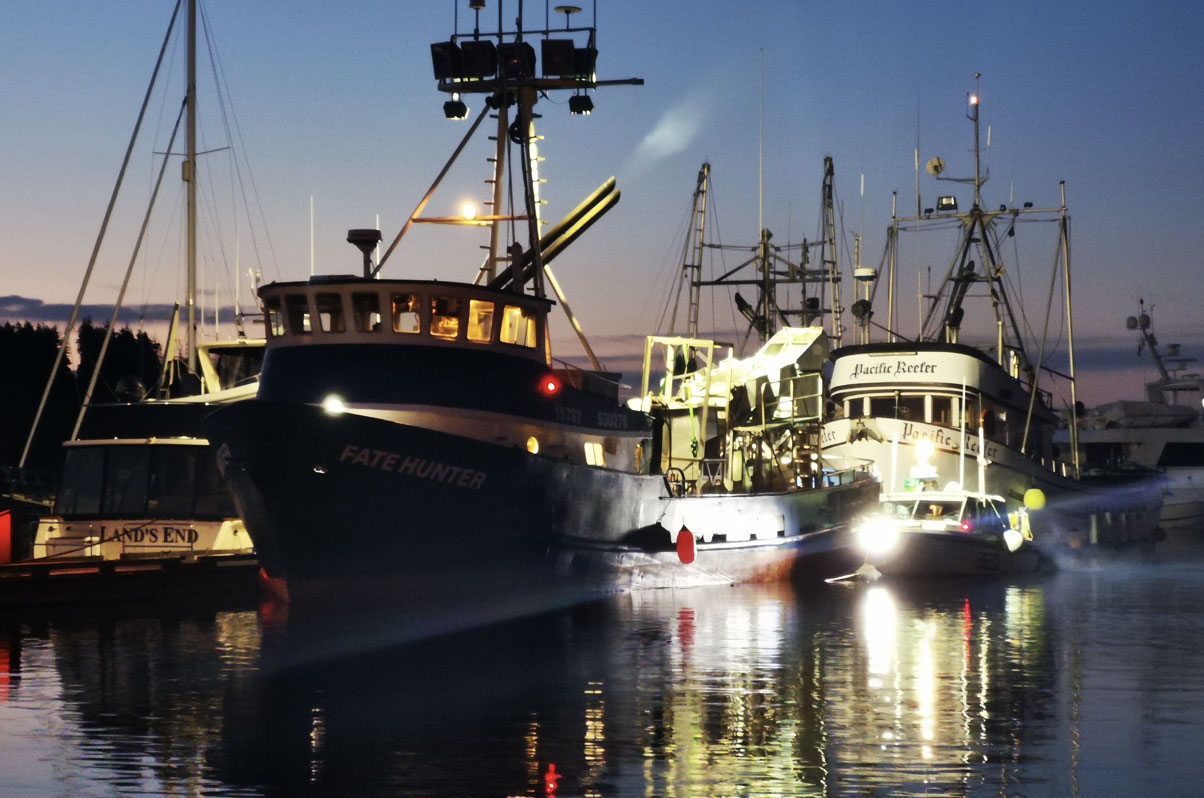 Being an independent contractor for C-Tow in Comox, BC, as well as the Broughton Archipelago, my husband, stepson and I are just one of the C-Tow operators in the Central Vancouver Island area, while other captains are based in Campbell River, Nanaimo and Powell River.
So, when we were dispatched at 10:30 p.m. in late May to tow a 73' U.S. Alaskan crabbing vessel that had lost its power, it was up to us to tow it safely to port.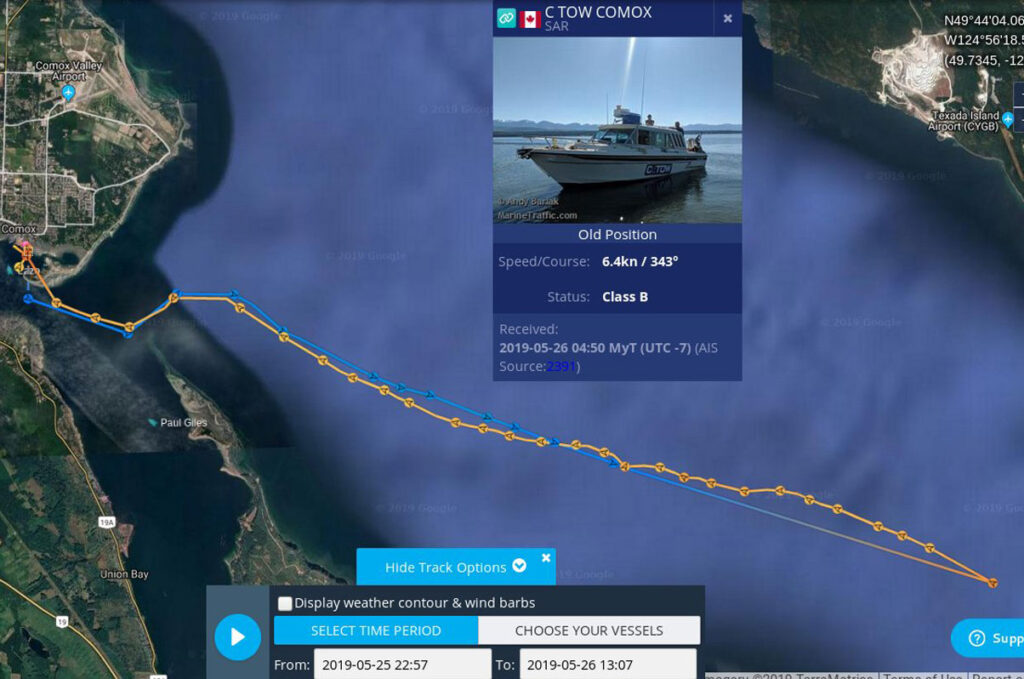 The vessel was about nine nautical miles south of Comox Harbour, near Hornby and Denman islands. It was an easy run in our Surfer24 powered by a Volvo Penta 230 hp diesel engine. When we arrived, the captain looked down at us from the bow and said, "I guess this is what we got!"
This vessel was huge. It was 102 gross tons with a beam as wide as our boat is long! But he gave us a chance. Fortunately, there was no wind or current, and the water was flat-calm. Otherwise, it may have been nearly impossible to tow with our boat.
As the boat was so large, we used a wide bridal tow line through the boat's anchor ports and then attached it to our main tow line, which is 1″ blue steel so it had a little bit of flex. After securing the lines, the vessel was so heavy we were only able to tow it at about four knots. This was pretty slow as we normally tow between five to seven knots.
Despite the speed, the tow was successful and took us about three hours to reach Comox Harbour. By this time it was almost daybreak. But one thing about the mouth of the harbour is there's a bar to get over. Luckily, the tide was coming in so there was plenty of depth. After making it over, we were finally on our way to the dock at the Comox Valley Harbour Authority.
We shortened the tow line for more control but since the boat was so big without power and control, I had to keep throttling down for what seemed like forever – it kept going and going – as boats with no power don't have brakes!
At one point, I thought to myself "OK, I have to make sure I keep in front of him and maintain some speed. Otherwise, if I slow down too much, his boat will overtake mine and tow me backwards!
Finally, we coasted to the docks and fortunately, there was another commercial fishing vessel tied up that had all of its balloons out. We decided to land him there first. We then secured lines from our boat to the vessel's hip at the stern port, making our boat his power, and steered it just ahead along the dock, landing it safely.
In the end, the problem was a damaged fuel lift pump. Since a replacement was only available in Campbell River 45 minutes away, we drove the captain to get the part and he then installed it. After we both left the port authority, he called us about an hour later, saying he broke down again and didn't make it out of the harbour.
As he had some power, he was able to limp back to the dock and we assisted with his lines. He soon learned that the fuel lift pump was defective. So, we drove back to Campbell River and had the part replaced.
Once his boat was running, we escorted him through the harbour, past the bar and out to the open water. He then gave us a "thumbs up" and a big smile, indicating his gratitude for completing such a big task, and the relentless efforts of C-Tow to make his trip still possible.
In fact, my husband and I still hear from him when he passes from the U.S. through to Alaska, which in itself makes for a memorable and enlightening rescue.