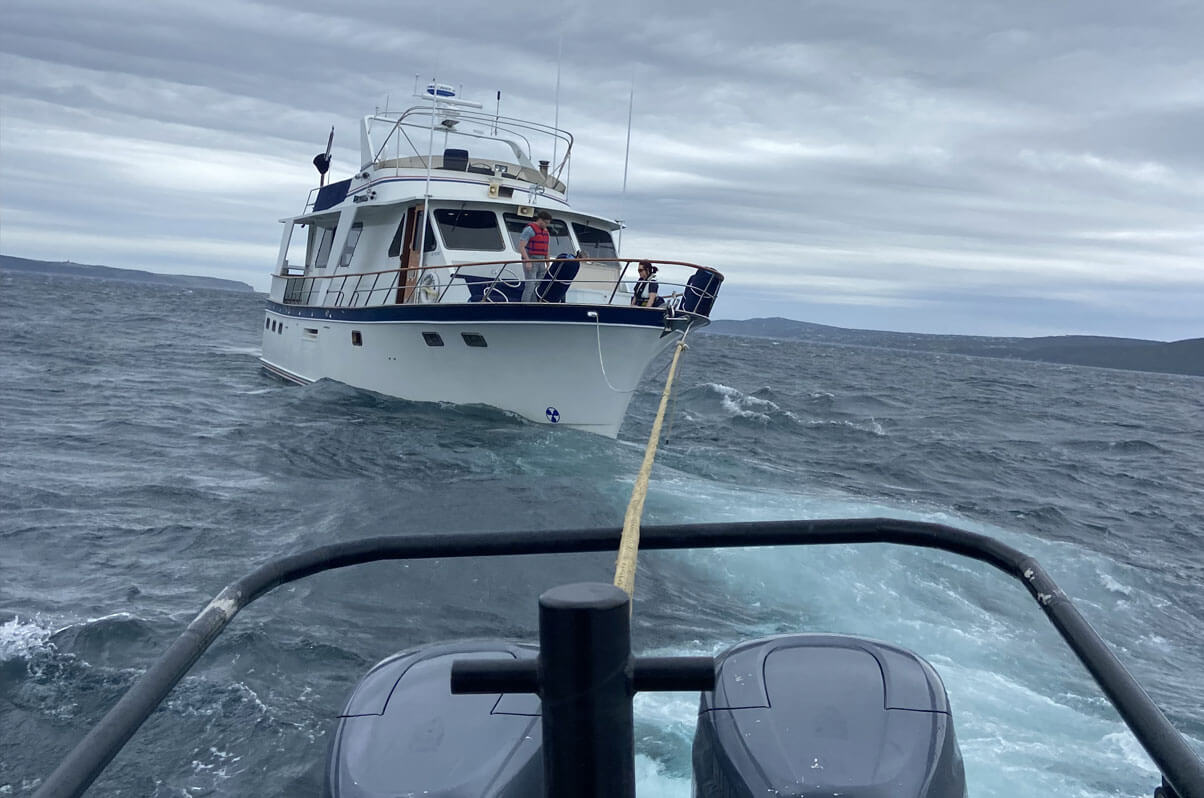 I have been involved in boating most of my life and based out of Long Pond, which is in  Conception Bay, NL, serving recreational boaters from Cape St. Francis north to Western Bay Head. Even though we have a short boating season, it's an active one and I am on call for C-Tow throughout the season. 
I own all of the necessary gear and have years of experience on the water, so the assistance I provide is mostly pretty easy, but it's the wind and rough swells that often make them difficult. Since I started with C-Tow in 2014, rescue and assistant calls have been increasing every year and word is getting out about the great work that we do.
The North Atlantic is almost synonymous with bad weather and while Conception Bay is quite large, it's wide open to the North Atlantic. When you look to the east, there's nothing but open ocean and the blowing offshore easterly winds cause very nasty seas.
Conditions can be so unpredictable that it isn't always forecast. That's when some people get into trouble. I also get a lot of calls from boaters who only go out occasionally. So, since their boat sits for a while it's more prone to break down out there and that's when C-Tow comes in.
I remember responding to one dispatch call last summer. The twin engines of a 65-foot DeFever motor yacht overheated and shut down while out in 30- to 35-knot winds in three- to five-foot seas. I actually knew the owner. Fortunately, he was only about three nautical miles from Conception Bay near Kellys Island, which wasn't too far out.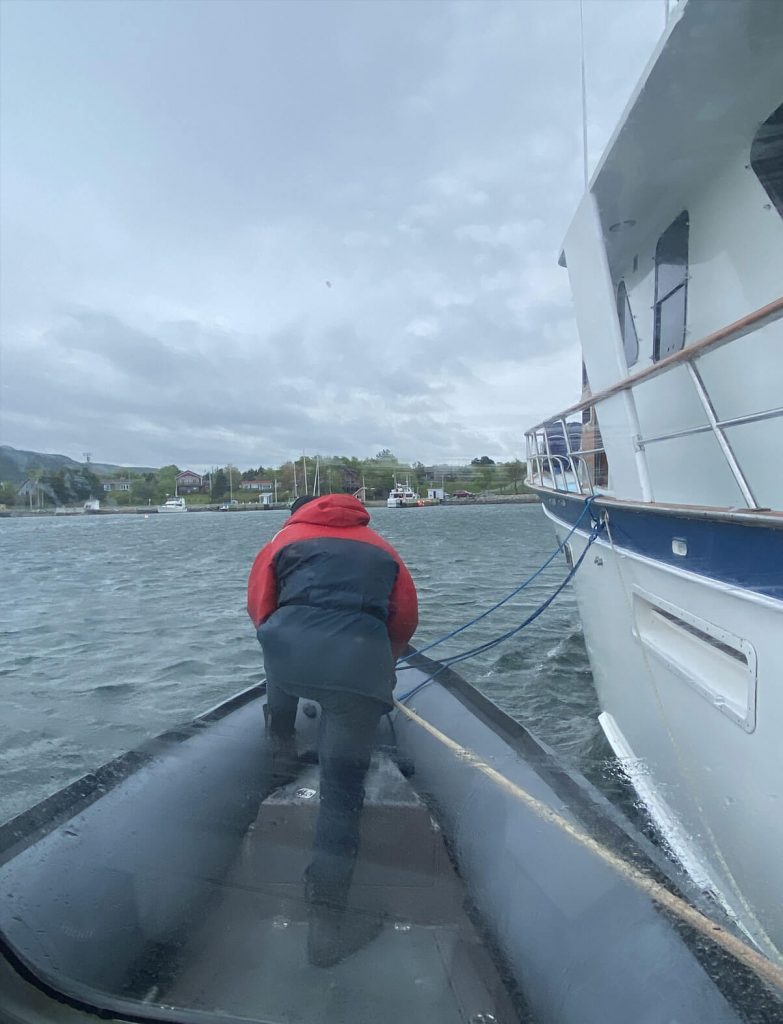 So my father (who helps me on deck) and I went out in my 26' Canadian Custom RIB powered by twin two-stroke Yamaha 150 hp outboards. It has a lot of hefty low-end torque and once served as a patrol boat for Fisheries and Oceans Canada (DFO).
Within an hour after we got the call, we arrived at the boat and learned the owner was hosting a stagette party with a large group of people. The DeFever was just drifting since we were in about 250 feet of water and he couldn't drop anchor. Being so large and high-sided, it was also holding a lot of wind, which was blowing it aimlessly.
Fortunately, a few of the women on board were experienced sailors. They really knew their way around deck so they helped us get the boat made fast to our tow line and we began a long slow run to inside the protected breakwater of Long Pond.
About two hours later, we were finally out of the rough conditions and safely in Long Pond. We then tied off on the DeFever's hip and began towing it down the narrow channel to his marina. At this point, the owner got his engines running and thought he could make it to his berth.
Nonetheless, the channel was so narrow and with a swift current and prevailing winds. If anything should happen there was no forgiveness. So, we wanted to stay on his hip until he was in his berth, just to be safe. He agreed.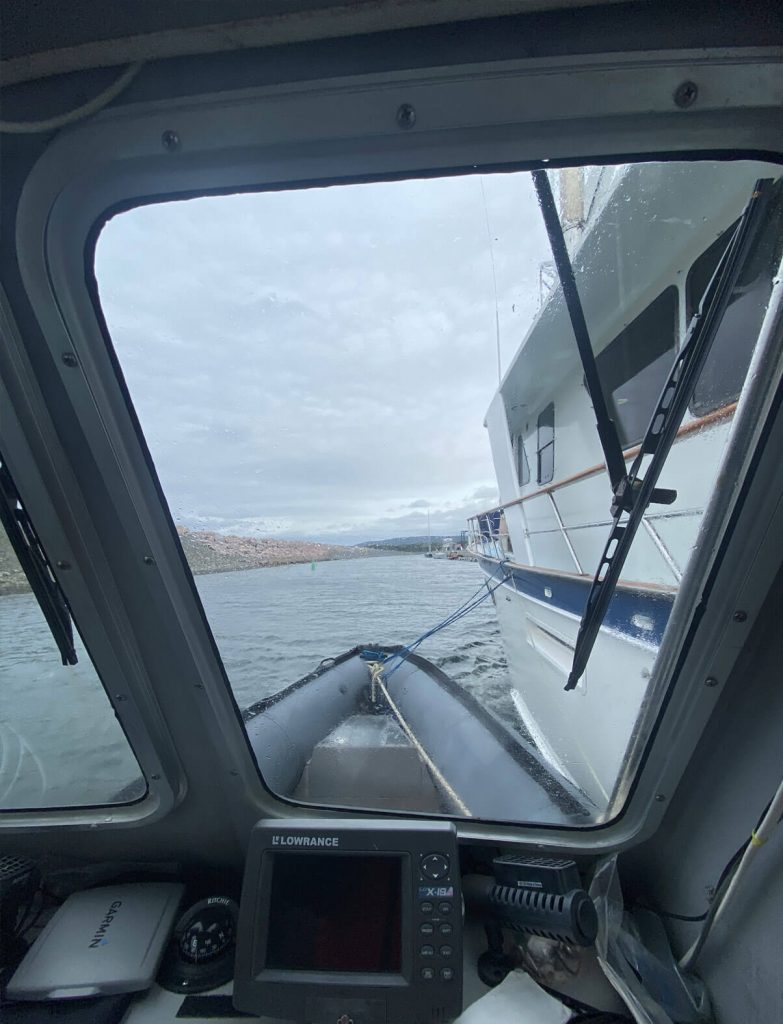 No sooner had we decided to stay, the yacht's engines once again lost power and he was just a few metres from running aground. I throttled up my Yamahas and while it took everything they had, we kept the DeFever in control and prevented what could have been a disaster.
Approximately three to four hours after we were dispatched, we landed the DeFever safely in its berth at the marina. The owner and his party were forever grateful.
As the owner at the time recently purchased the boat, he didn't have the chance to haul it out for seasonal maintenance. I later learned there was an issue with the engine's cooling system and as a result, they automatically shut down.
Any type of maintenance is very important. I know the owner has many years of boating experience and always maintained his previous models but even the most seasoned boaters who routinely maintain their vessels can experience unexpected problems. So, having a service like C-Tow is extremely important.
Understanding maintenance is often a big learning curve for new boaters and I commonly remind people that they need to take advice from experienced boaters and never be too proud to ask for help. The owner of the DeFever realizes this. He wasn't a C-Tow member at the time of the rescue, but he is now.