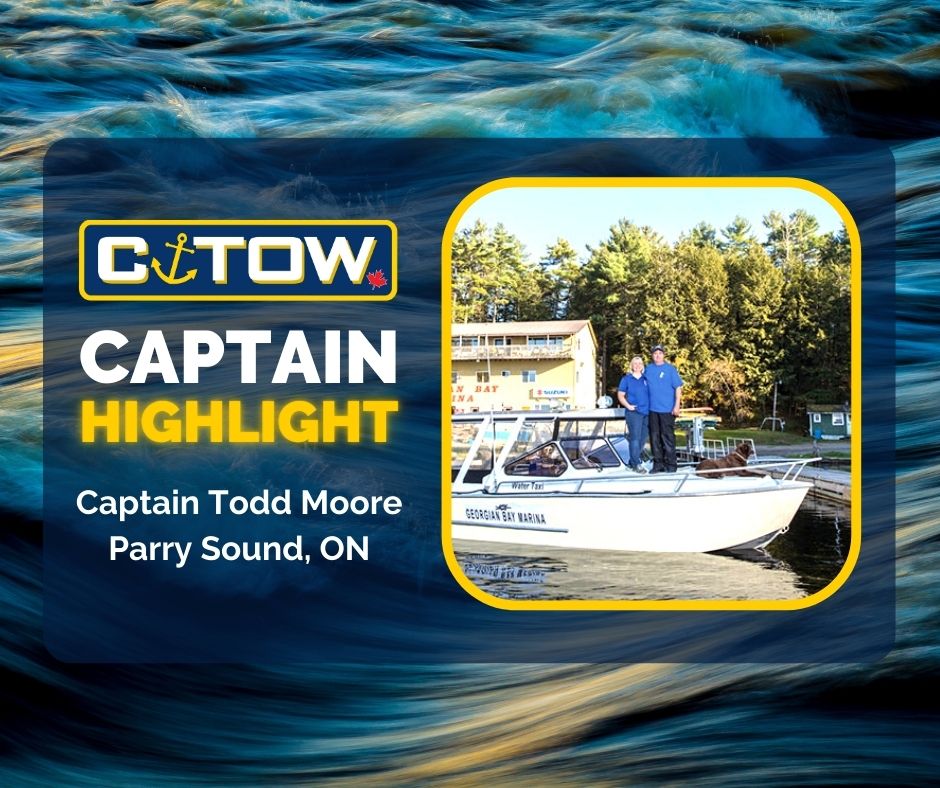 Todd Moore
Parry Sound, ON
Todd Moore feels right at home with C-Tow. He hails from Orillia, on Lake Simcoe, and has lived in Parry Sound on Georgian Bay, Ontario, for 2 years. He and his wife Laurie own the marina there, and Todd has been a C-Tow captain for 2 years.
The Georgian Bay Experience
We have some of the best boating anywhere; the Thirty Thousand Islands is the world's largest freshwater archipelago, protected under UNESCO. It's unique natural beauty. I cover the eastern shore of Georgian Bay north to Pointe-Au-Baril and south to Twelve Mile Bay and surrounding area.
A Must-See Spot
Depot Harbour, the deepest fresh water port in the world with the biggest farmed rainbow trout is fantastic. You can catch lake trout, salmon, bass, and pickerel. And there's wreck Island where the Waubano sank with so many lives lost. Massassauga Park is huge and is a favourite of Paddlers.
My Love of Boats!
As a child I started with a tin boat with a tiny motor, and I just kept getting bigger boats over time. Before we owned the marina I ended up with a 37′ cruiser. I now own 3 multipurpose boats: a 27ft Barker, a 25ft Grady White and the most recent addition is a 30ft Cobra that is the dedicated C-Tow boat.
C-Tow Story
C-Tow is a great fit for us because we were already towing. We live on the water as it is, and C-Tow is an opportunity to do more. We know the area really well, and that helps when people need us.
The C-Tow Adventure
We love the challenges that C-Tow brings. If we are needed we will do our best to assist. There's great satisfaction in that!
Most Memorable Call
There was this 25ft aluminum boat straight up a cliff! They were driving at night, too fast, full throttle, got off course, and ran straight into an island! Luckily the injuries were not life threatening. We attended the scene but determined that a barge and crane would be the only safe way to deal with the wreck and knew who had the appropriate equipment.
Safety
A C-tow membership can be a cottager's best friend out here. It is such a vast area that you might not see another boat when in trouble and the bay is littered with hazards so spending only $100 on a membership is the best value going!