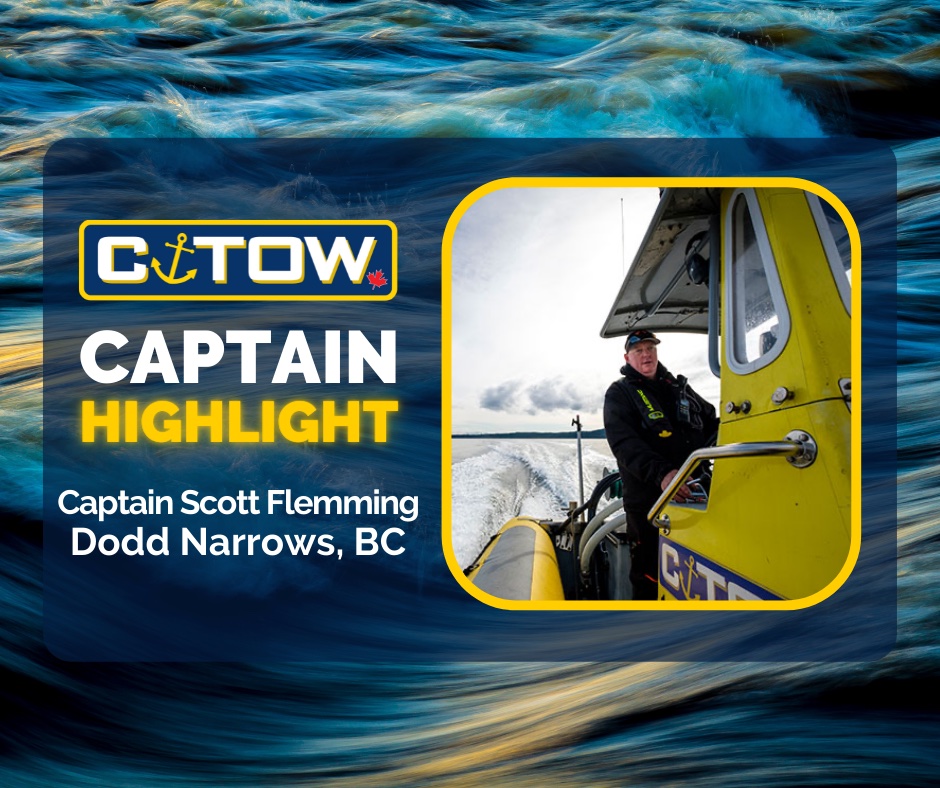 Dodd Narrows, BC
Scott Flemming has been living the good life on tiny Mudge Island on the East Coast of Vancouver Island for 25 years. He is part of the Mudge Island Citizen Society, a not for profit mission to provide fire protection and emergency services.
A Coastal Beauty
I am employed by C-Tow Nanaimo and operate as C-Tow Dodd Narrows. I'm responsible for one of the most beautiful areas in Canada: Nanaimo, Salt Spring Island to French Creek, the Gulf Islands and the West side of Georgia Strait. At the North end of Mudge Island is Dodd Narrows, a tidal channel through the Gulf Islands that can run at 9 knots, with big waves.
A Few Favourite Things
Just get in the boat and go. Around here, you can see plenty of wildlife, seals, sea lions, orcas and large birds of prey including eagles and ospreys. You can drop anchor for the night because the waters here are so protected.
The Boating Life
My father had a sailboat, and we made trips to Mudge Island a few times a year. It was a natural progression to get my own boats. I was kayaking as teenager and graduated to a 17.5 Malibu fishing boat and a 22foot sailboat—still have both. For C-Tow I operate a Skipjack 25 foot and a Willard rigid-hulled inflatable boat.
My C-Tow Story
C-Tow is a good fit with my passion for water as well as my volunteer service with emergency preparedness and fire protection. It's an environment I love, and helping people while making a few bucks is great. I've been a Captain for 6 years and had extensive training in marine first aid and emergency response.
The Best Thing
I always loved being on the water. With C-Tow, you never know when something's going to happen, it might be the middle of the night.
A Good Rescue
A family of pleasure boaters were getting ready to abandon ship because their boat had hit rocks. The May Day call came through VHF emergency channel 16 Coast Guard. We got pumps going, plugged the hole, and towed them to Nanaimo. Watching us work, the owners felt more confident that they were in good hands.
Things Change Fast
I think people have no idea how fast things can change; you have to keep a close eye on the weather. C-Tow gives you affordable security; the benefits are more valuable than the cost of an emergency.