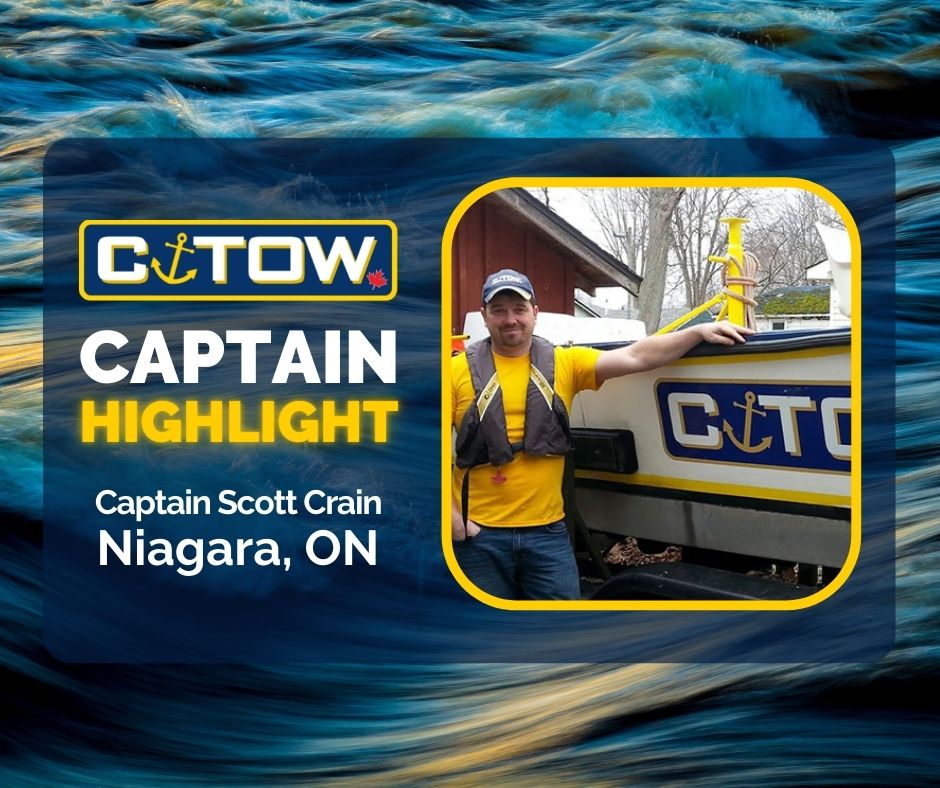 Scott Crain
Niagara, ON
Scott Crain thinks his life couldn't be more perfect: between running C-Tow Niagara in Fort Erie and getting married, it's all about love and helping people.
Niagara Falls is not far
My area is the upper Niagara River to Dunhill on Lake Erie, and every call I get is treated as an emergency because boats have gone over Niagara Falls, though not in my lifetime. We're always in a current here, ranging from three to 15 mph.
A Favourite Sight
I never get tired of looking at the Niagara Falls skyline from Navy Island, especially in the evening. Every weekend there are fireworks at the top of the Falls. It's spectacular.
Boats over Motorcycles
I've been boating my whole life, cruising and exploring. I used to own a motorcycle but when it came to the crunch, I actually bought a boat instead. I just bought my first sailboat and my C-Tow boat is a 24-foot Mako Centre Console, with oversize cleats, a large tow bar, a support system to the stern, plus safety equipment.
My C-Tow Story
I was the guy who was always out towing people, helping them. I figured I might as well do this for a living. I google searched and found C-Tow. It's a great life, I have more free time than when I worked in the restaurant business.
Best Thing About C-Tow
I've been a captain for 5 years, but it never feels like work. It's very gratifying to help boaters in distress. They're always so happy to see me! And I love being on the water; it never gets old.
A Memorable Rescue
On a stormy, pitch black night, the fire department called me to Lake Erie, off Point Abino. 300 feet from shore, a power boat had run up on the rocks. When we got to the boat, there was a family of 3, calm as can be, with smiles on their faces. They didn't seem to realize they were in trouble!
Safety on the Water
People don't know how cold the water is at the start of the season; if you fall in, hypothermia is a reality. I join other clubs in the states when I boat down there. I want someone who knows the local water, just waiting for my call, ready to come get me. I don't want to bother my friends.