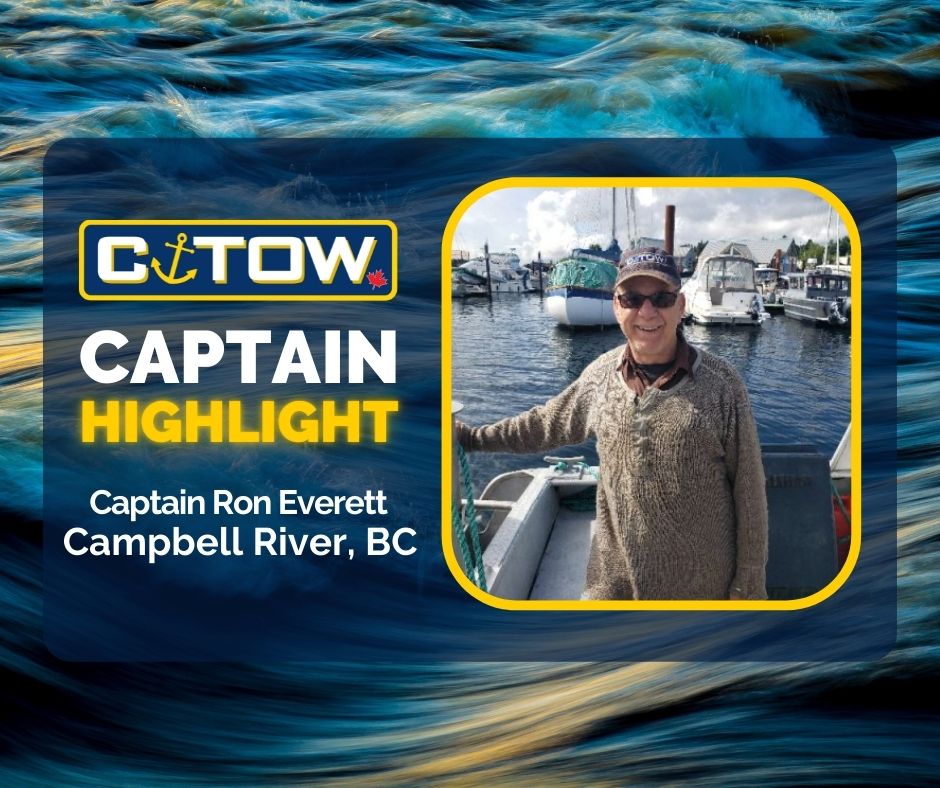 Ron Everett, Campbell River
Ron Everett loves the great outdoors and living in Campbell River. With its large fishing and boating community, it is perfect for him and his new life as a C-Tow Captain.
Northern End of Georgia Strait
My area reaches from Campbell River to Shelter Point to Baker's Passage. There's no other C-Tow operator north of me; Sayward Island is the northernmost point. It can be wild and treacherous with fast water and high winds. But it's a breathtaking landscape.
Best Diving and Whale Watching in the World
The Jacques Cousteau diving society rated this area as one of the 10 best dive spots in the world. We have cold fast water; it rushes through small gaps and creates tides, so squid and smaller fish get crowded and the big fish come to get them. Makes for good fishing. The whale watching is wonderful from April to October. And don't forget the largest sea bird colony in the Strait of Georgia on Mitlenatch Island.
The Boating Life
I use a 30 foot welded aluminum boat that was already outfitted for rescue jobs. I've worked on boats all my life, for the logging industry as well as commercial fishing. I ran adventure boat charters too.
My C-Tow Story
I saw that the Campbell River C-Tow Captain was selling his boat, and that piqued my interest. I talked to the company owner and found that C-Tow was a really good fit for me. I love being on the water and helping people.
The Best Thing About C-Tow
It's an adventure. I never know what to expect from the next call or where it will take me. It's all about helping people and being on the water. It's great.
Most Common Rescues
I get a lot of calls from tourists, mostly motorboats. But most of my tows are sailboats because they only have one small engine. If that engine goes, they get stuck. Around Campbell River the tides and wind aren't conducive to taking you where you want to go – they change fast.
Boat Safety
Here, it's the tides that get you in trouble, and people aren't prepared; it gets really rough.
You should look at tides and weather charts before the go out. But you can't prepare for everything: mechanical issues, weather, tides, and other variables. C-Tow provides that much-needed peace of mind.