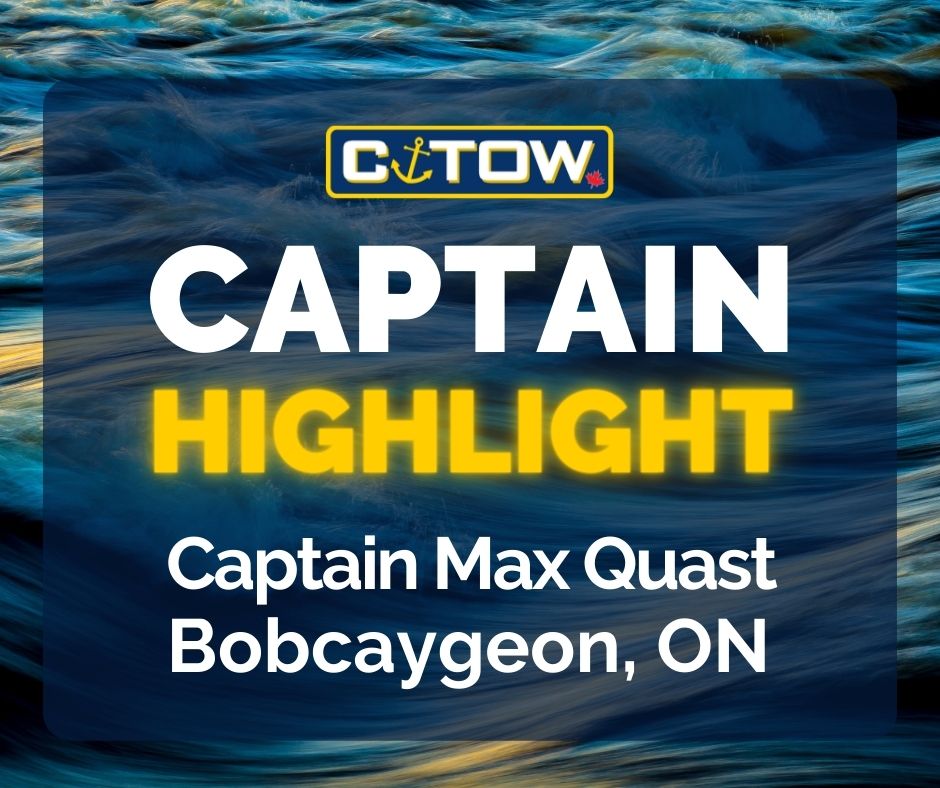 Max Quast
Bobcaygeon, ON
Max Quast is a lifelong mariner and part of a longstanding boating community on the Trent-Severn Waterway. C-Tow Kawartha is the next chapter of his legacy.
Born to Boat
I've been a boater since day one. I'm part of the third generation family run Marina at Happy Days located in Bobcaygeon, Ontario on the Trent-Severn waterway. We are located between locks 31 (Buckhorn) and 32 (Bobcaygeon), and have spent 40 years renting houseboats and other vessels to the public.
A History of Help
Maintaining and servicing the rental fleet has been the highlight of my boating season for as long as I can remember. I've spent many long nights and days towing, salvaging, and fixing vessels on the water. I'm currently completing my marine engine mechanics license and have been a firefighter in my community for four years.
My C-Tow Story
With the momentary pause or shift in the rental division of the family business, I've decided to create a name and a legacy of my own: C-Tow Kawartha. We have purchased a 2022 24′ Stanley Pulsecraft to add to our pre-existing fleet and will be offering C-Tow services in Kawartha Lakes and surrounding water systems.
Floating and Boating
As Canadians we are truly blessed with the amount of water systems in our country that offer so many types of boating to be enjoyed. Whether it be the sandbar, the rock cliffs, the coves, or the deep water I'm a happy camper as long as I'm floating and boating.
The Best Thing
The best part of being a C-Tow captain is being able to help and serve my community members, and putting smiles on their face while enjoying the water myself. There's no such thing as a bad day on the lake!
One thing that always stands out in a major way for me is seeing the ear to ear smiles on those whom I service and help. It's a soul lifting feeling being able to come out and help those who could be having the worst day, and turning it into the best day by getting them to safety or getting them back to boating.
Stay Ready
One tip that I could give to any boater is to expect the unexpected and stay prepared for all situations, with the proper gear and life-safety equipment while boating.