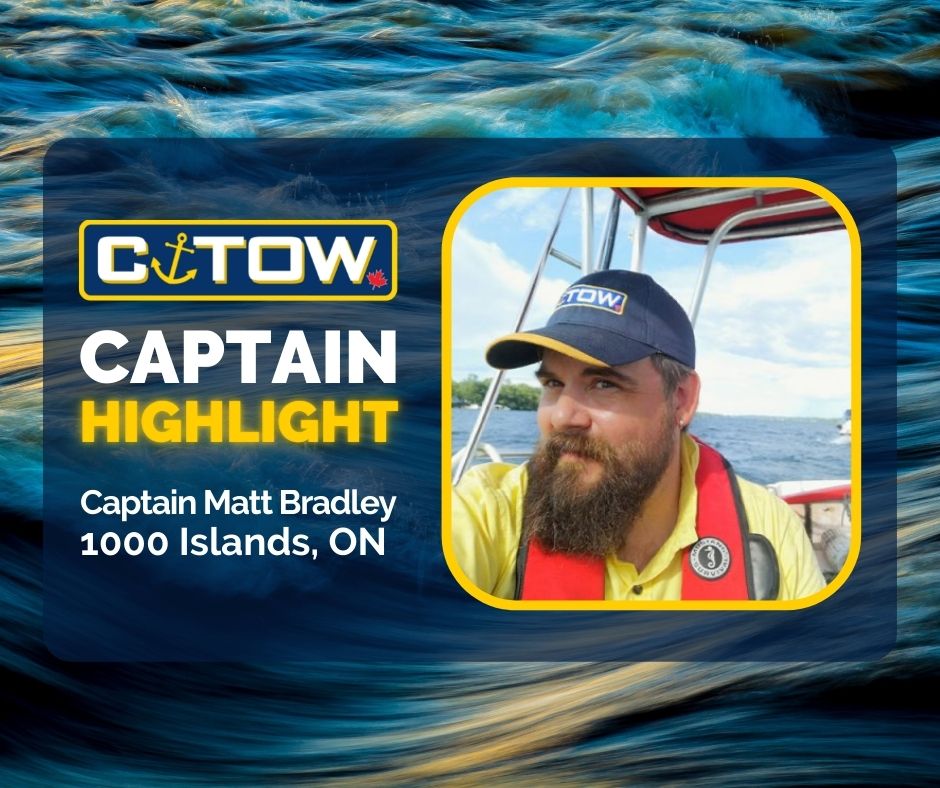 Matt Bradley
1000 Islands (Kingston), Ontario
Matt Bradley joined the C-Tow family in July 2019, fulfilling his lifelong dream of working on the water.
Thousands of Islands
I look after the area around Amherst Island to Brockville, part of the popular 1000 Islands on the St Lawrence River. There are so many nooks and crannies and there's lots to see. It's a unique waterway, quite historic.
Historic Shipwrecks
There's fishing and recreational boating here, as well as many historic dive sites. There are many well known shipwrecks in the 1000 Islands area, each rich with history. One in particular, the Iroquois/Anson, dates all the way back to 1763. 
Love of Boats
I've always been on boats since I was a little kid. Dad had small fishing boats and a canoe, and we would go fishing. As a young man, I worked at Discovery Lake Lodge where I enjoyed looking after all the boats and guiding guests to the best fishing. I've had a series of my own power boats, starting with an old 18ft fibreglass boat and several boats for fishing, adventuring, and water skiing. I was always helping friends that got stuck on the water, this was before GPS. Now I own a 26ft Shamrock, which was already outfitted as a C-Tow rescue boat when I bought it.
C-Tow and the Water Called Me
I really want to work and spend as much time on the water as possible. Weekends aren't enough. I saw an ad for C-Tow Captains and met the owner at the Kingston Boat Show. We talked about what's involved. It sounded perfect for me.
Best Thing About being a C-Tow Captain
I like being the person who shows up; meeting someone new, and helping them out.
Safety and Peace of Mind
A full tank of gas isn't enough; people misjudge distances and how much gas they actually need for puttering around, so running out of gas is quite common. But for a small investment, C-Tow gives you peace of mind.