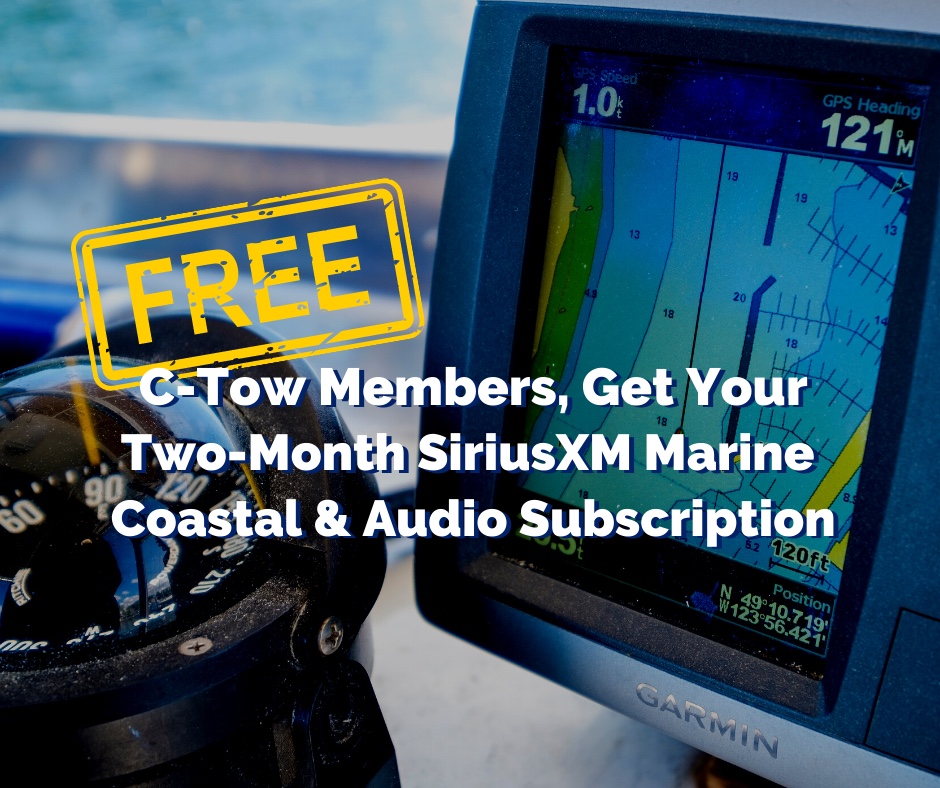 There's nothing like the freedom of boating, especially when Canadians are looking at sticking closer to home this summer. With the season finally upon us, as always, we're here to try and make it that much better for you and your family. As a C-Tow member, you're eligible for a FREE two-month subscription to SiriusXM Marine Coastal and Audio!
C-TOW and SiriusXM Marine have teamed up to give C-Tow members a FREE offer to make this summer your best yet.
You may be familiar with SiriusXM in your vehicle or at home. SiriusXM Marine is custom-designed for mariners out on the water, extending even beyond cell phone range as it's delivered by satellite. All of the information SiriusXM marine provides is graphical so you can focus on navigating and enjoying the water without having to deal with a complicated interface.
SiriusXM Marine provides up-to-date, local marine weather information and forecasts directly on your chartplotter/MFD, plus SiriusXM entertainment. This includes wind forecasts, lightning, wave heights, marine warnings and everything else you need to stay safe and informed. And, because the service is delivered by satellite, you'll getcurrent situational awareness for up to 200 miles from the coast. It also covers the Great Lakes, offering a lot of detailed data for our Ontario-based C-Tow members.
How does SiriuxXM Marine Coastal and Audio Make Boating Better?
Avoid adverse conditions with Weather Radar, Lightning and Storm Cell info
Access Local and Marine Zone Forecasts and Weather Map with Isobars/Pressure
Anticipate conditions with Wind Speed & Direction and Wave Height
Storm Tracking, Alerts, Fishing Info and Weather Watch Boxes
Don't miss the big game, news or your favourite music with over 150 channels of SiriusXM Satellite Radio
To take advantage of this free two-month subscription, simply quote the promo code CTOW2MFREE.
PLUS a $100 Rebate on Hardware
On top of this free two-month trial, members who purchase and activate any eligible marine satellite weather receiver before December 31, 2020 with any SiriusXM Marine weather subscription package, and maintain 60 days of continuous paid service, will receive a $100 mail-in rebate. For more information, please visit siriusxm.ca/marine.
With a C-Tow membership and your SiriusXM Marine Coastal and Audio service activated, you and your family will enjoy even more peace of mind on the water. The valuable information SiriusXM Marine provides helps you plan ahead and avoid unwanted conditions, and your C-Tow membership ensures that if you do get in to trouble, you have access to fast, emergency response 24/7/365. So, power up your chartplotter/MFD, tune into your favourite songs, and enjoy the summer!