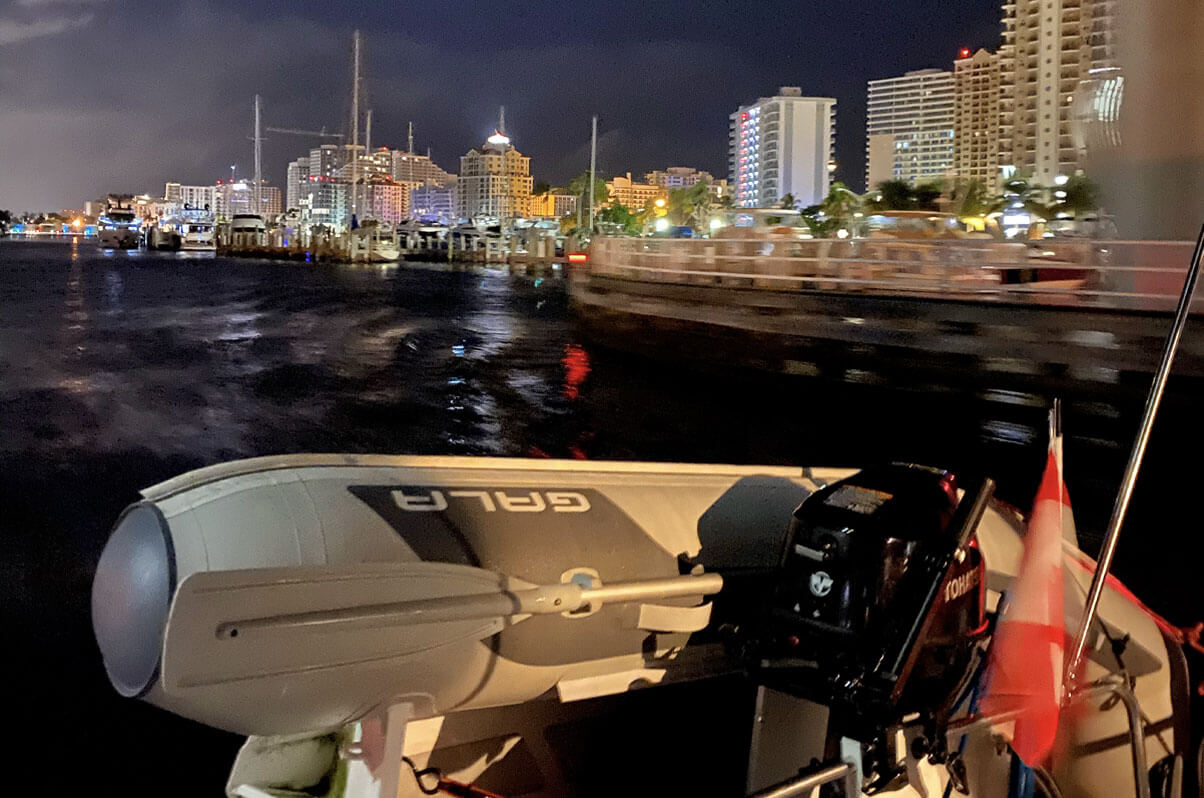 We're off to Jibsea's next and most anticipated stop since leaving Toronto…The Bahamas! To get there from Florida, we have to cross cross the Gulf Stream.
The Bahamas are only 60nm from Florida which is not far but wind and current are major factors that need to be considered. The current can be 3 or more knots at times moving in a northern direction and as such, plays a huge role in having a fun safe passage or a nightmare of one.
We waited for a month in Fort Lauderdale, Florida for our "perfect weather window". It was the best one we've seen in a while and for a long time coming so we had to take it. At 10-15kts from the south east it was looking okay, however south west is best. You want a southern component to the winds you are catching and absolutely nothing with North in it. In that big body of water with a massive current heading north, any wind coming from the north above 15kts will create a nasty sea state that can be down right dangerous.
The perfect window you want to wait for is a good three day window of southerly wind. One day of calm southern winds to calm the seas followed by another good 10-15 kts of wind that you can sail to get there in comfort and another day in the bank just in case.
If heading to Freeport or Bimini, you can stage from Fort Lauderdale or anywhere south of there to make it a little easier for pointing direction. Due to the massive current, you need to point much further south than you're actually heading (roughly 20+ degrees or so). You're 'crab sailing' I call it – moving sideways. So keep that in mind as well when choosing a weather window. The nice beam sailing you planned for might actually be close hauled instead.
That was our experience, what I thought would have been a decent window turned out to be no good at all. Thanks to Covid and the $300 spent on testing prior to our planned arrival in the Bahamas, we had no option but to press on. When picking up our anchor to depart Fort Lauderdale, we encountered a fouled anchor mess (when I say mess I mean an absolute crap show) at 4:30am. Head on over to our YouTube channel to see exactly what we had to deal with in the pitch dark!) Once the anchor issue was all sorted out, we were able to get underway. We were greeted by the nastiest six to eight foot steep seas going out the inlet and had to motor sail into 20 kts of wind half way across the Gulf Stream moving at a mere 3.5kts. Thankfully, the winds shifted in our favour later that day and somehow we still made landfall with enough light out to enjoy the stunning Bahamian blue waters. Wooow! is all I can say about those colours!
Though you've got to time the crossing perfectly, the Bahamas are one of our absolute favourite cruising destinations and a great reward for crossing the Gulf!
If you want more Jibsea fun then head over to our YouTube Channel Sailing Jibsea or check out our Instagram @sailingjibsea
Travis