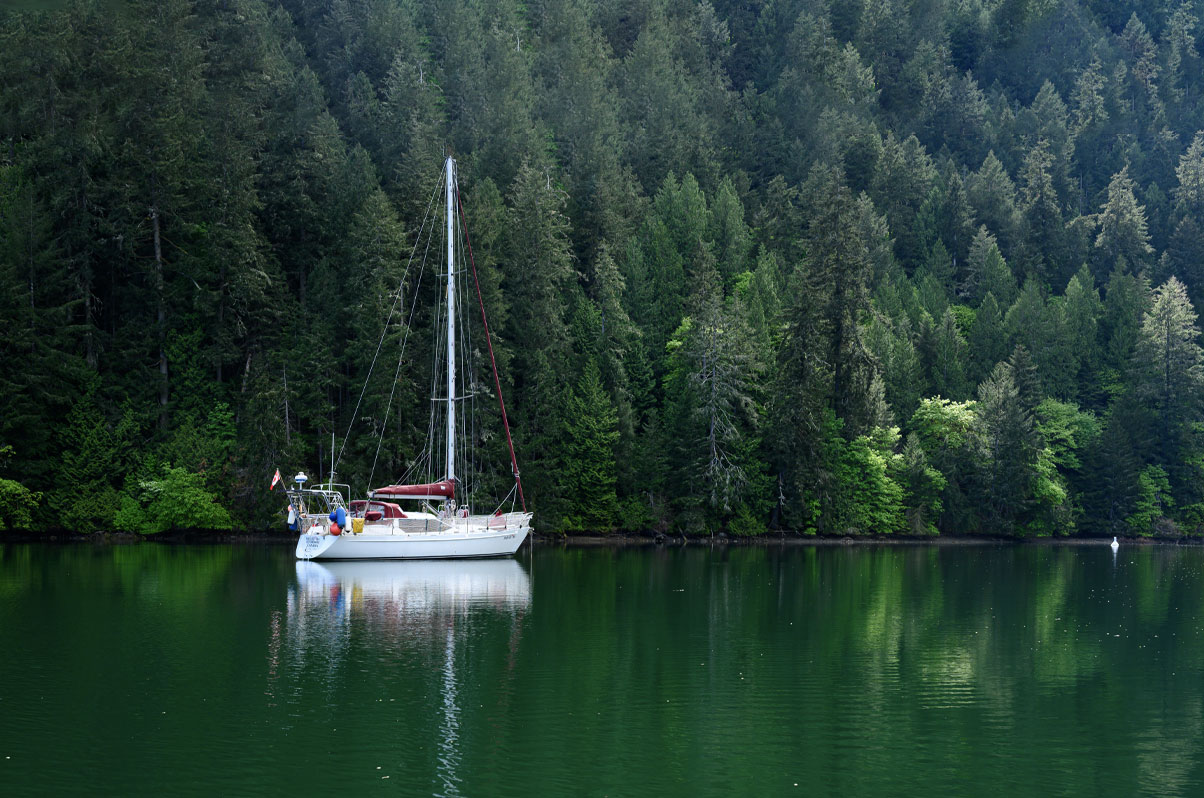 For us, living on a boat has meant that we are often either right in the thick of nature with little to no development or services around us, or we are right in the thick of the city, feeling as though we are living in a condo on the water while surrounded by boats in a marina. On Vancouver Island we are exceptionally lucky to live so close to nature. Our cities and towns are abound with large parks, both of the forest and ocean kind, but while on the water it is ofen hard to find that balance. But every once in a while we are lucky enough to find a location that feels like it provides the best of both nature and the city.
It didn't take long after moving onboard our sailboat for us to hear stories of a legendary inlet just outside of the greater Victoria area. Stories told of pristine nature, great mud holding and a grocery store and marina services just a dinghy ride away. But us, being the type of people who are always wandering off the beaten path, were sure that this place would be overrated. Regardless, we headed south to check this place out.
In order to enter Tod Inlet we needed to pass through Brentwood Bay. The bay looked like a floating suburb and we knew we were in a place friendly to the liveaboard boating community. We made a slight left and began our tour up Tod Inlet. Flanked on both sides with tree- covered hills, Tod Inlet is a sight to be seen. With turquoise green waters and the bluey-green color of the douglas firs on the surrounding hills, it was hard not to feel a sense of peace come over us as we worked our way up the inlet to our anchorage. The trees were perfectly mirrored on the glass calm water and we were dumbfounded by this natural beauty being so close to city life.
Tod inlet is situated within Gowlland Tod Provincial Park is in the traditional territory of the W̱SÁNEĆ (Saanich) people. To them, the inlet is known as SṈIDȻEȽ, which is pronounced 'sneed-kwith' and means place of the blue grouse. The area was traditionally used for gathering foods and building materials and was known to be a place of plenty for the people before it was taken over by Europeans for industrial uses. It was also a place of great spiritual reverence and traditions. Today the land is being reclaimed for cultural practices as well as recreational uses.
Although the approach to our anchorage showed near pristine nature, once we entered the anchorage it was evident that this area had once been used for industry. On the Brentwood Bay side of the inlet, pilings jutted out of the water reminding us that this area was once an industrial zone used as the home to the first cement factory on the west coast. There was also a new dinghy dock built which allowed us to easily access the beach and the park trails which wind from the inlet through the park and to roads leading to Brentwood Bay. A lot of work has been done and continues to be done to renew the natural environment in this area and to repair the damage done by many years of industrial use. Signs of this work were visible throughout the park. This restoration effort is led by volunteers and the Seachange Marine Conservation Society in accordance with the W̱SÁNEĆ.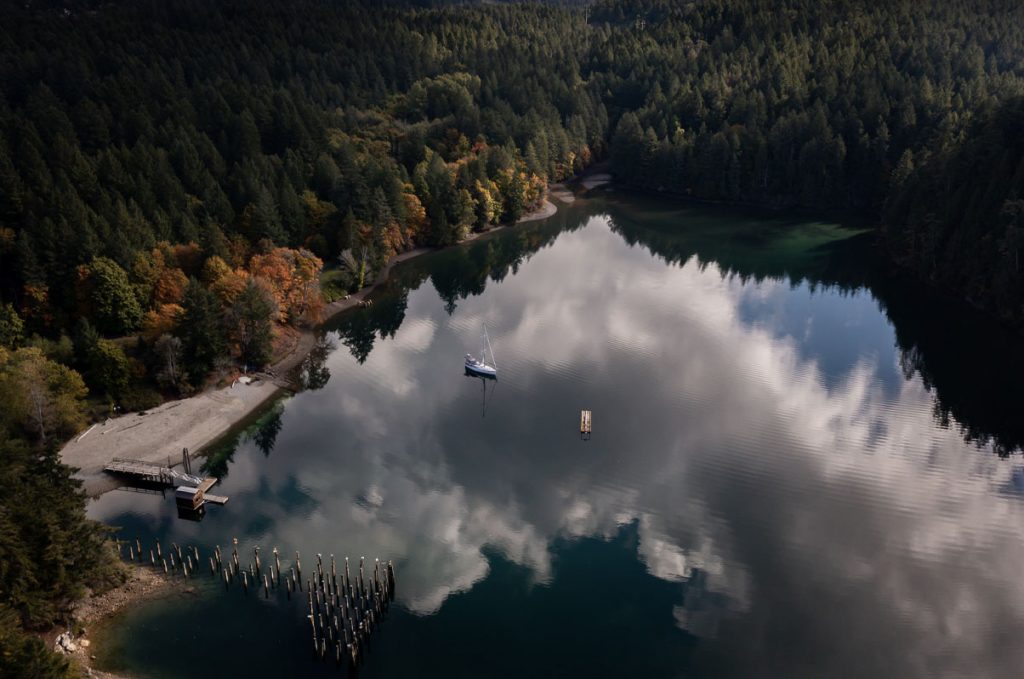 Just meters from the inlet is also the Butchart Gardens, built on the remnants of the old limestone quarry which kept the cement plant running. These gardens are one of the largest tourist attractions on Vancouver Island and they boast beautiful gardens all year round. We were able to access their main gate from the park which was just a five minute walk from the dinghy dock.
We spent our days in Tod Inlet walking the beautiful forest paths that led from the beach and park dock. As we meandered through the ruins of times past, hidden and held by the recollecting of nature, I couldn't help but think of how lucky we were to be in a place that was so rich in history, but so plentiful in natural beauty. We explored the shoreline by dinghy, hung out with otters as they ate fish from the inlet and watched small sharks swim near our boat. When we needed supplies from town either walked into town or took a short dinghy ride from the anchorage into Brentwood Bay for supplies. The only downside was that despite being so close to civilization, there was next to no cell service in the inlet.
We have two videos from our visits to Tod Inlet and Butchart Gardens that you can see on our YouTube channel. The first time we visited in the late spring and the second in mid autumn. Both seasons were amazing and beautiful. We highly recommend a visit to this beautiful inlet if you get a chance!
Sources: visitorinvictoria.ca and Deep and Sheltered Waters by David R Gray